Disclaimer: this is a case study for "Global parts zone", a company that not affiliated with GRIN tech. It is featured in Tools for business series (engagement based dialog via email) to showcase a web scraping opportunity.
Globalpartszone.com is a small US company that has become a well-known online store of spare parts for special equipment. A distinctive feature of this company's business is that sales, purchases, delivery, and other processes are almost 100% conducted using web tools and IT solutions.
With the help of a team of developers, several managers, and a small warehouse, the business has grown to impressive heights in about a year. I think this experience can inspire start-ups and will be useful for existing companies to take a fresh look at the importance of IT business.
How it all began
A Russian family went to live in the United States and decided to start their own business there. By coincidence, the company engaged in sales of spare parts for special equipment.
The market for the supply of spare parts has many specific points. One of them is its division: there are original spare parts (OEM) and analogs (Aftermarket). There are not a lot of brands selling spare parts; thus there is not much of competition. This market mainly consists of small intermediaries who have a constant client base (mostly personal contacts). Competitors have a low level of IT tech implementation in their businesses. That allowed the project to gain a competitive advantage through IT tools.
The main stages of the business process:
Spare parts orders generation.

Search for suppliers with the best deals.

Order consolidation and packaging.

Printing delivery labels, transfer to delivery services.
Consolidation and packaging are the only two of those that cannot be automated within a small business, so the main goal was to automate the rest.
Nikolay Zakharov, a former analyst at mobile provider companies, took over the management of the project. Now he is engaged in project activities and entrepreneurship.
His friend, Andrei Yurov, (specializing in SEO and Internet marketing) acted out as a promotional inspiration and strategist.
The primary strategy was to process and upload all the goods that are available from suppliers ASAP into a digital database — then receiving online prepayments and processing orders in such a way that the dispatch time does not exceed one or two days.
As a result, the site sells products from suppliers' warehouses but positions itself as a seller with its own.
It's worth noting an online prepayment order is very common for the US market. Any remittance of a client protected by an online payment service or its bank. In case any problems occur, there is an arbitration service that listens to arguments of both parties and makes an informed decision. And at the same time, there are no significant problems with customers in this market.
Globalpartszone.com capitalizes on prepaid orders of parts from other warehouses. That significantly reduced the risks and costs in comparison to owning a warehouse. Naturally, this approach has its drawbacks, but this particular story shows nothing but a fully developed business.
The development of Globalpartszone.com
To generate more orders, they decided to fill the website with all the spare parts available for sale and index them. Our SEO goal was to promote primarily unique catalog numbers and tech identifiers. The core of our target audience is repair shops and individual mechanics, who know these numbers and identifiers well.
We had to put more than a million unique products on our website, organize a catalog search and set up a fast algorithm to process any requests. Boy, was that a task to push through!
As for today, Globalpartszone:
Contains about 1.3 million products available for sale.

Has more than 800 thousand pages indexed by Google search engine.

Automatically updates info on suppliers stock balance.

Has two types of search implemented.

Produces automatic clustering of goods on similar grounds.

Can supplement data on products from open sources.

Determines the user's region and calculates shipping costs for 229 countries.

Is integrated with PayPal and also generates various payment invoice templates.

has a CRM system, automation tools for processing orders and several management tools for active sales

Editor's naked self-promotion: for many companies building a custom CRM is a much better option than trying to adopt an existing solution. Let GRIN tech make yours.
Let's take a more detailed look at the functionality of the service.
Supplier data synchronization
One of the most challenging tasks was to synchronize supplier data on the availability of goods. The main problem is that most suppliers do not provide data on balances in a structured form or through an API. Each supplier has its system, which allows receiving data on balances on request, but these systems not designed for external integration.
An authorization program code was written for each system to solve this problem. It allows you to simulate the user's work in the system and receive data on product codes. Later, they initiated a check of goods left in stock sorting them by manufacturer's catalog numbers. At the same time, the data is updated automatically, depending on the number of products in the warehouse. If there are only 100 units of a product left, its next update will be in a few months, five units – in a few days.
That is one of the critical factors that allowed the website to become a leader in the spare parts niche.
Product search on the website
There are two search options: by specific product code or by a list of codes for bulk orders.
With a product code, everything is quite simple:
If a specific part found, the search will redirect a user to

the product page

.

In the case of finding a partial match, a

list of results

that partially meet the criteria displayed.

If the product not found, the user is asked to leave our

request

.
The search by the list of codes is a distinctive feature of the project. Wholesale buyers are, naturally, the most desired customers for our business. The most common scenario for processing a bulk transaction is a request to see the cost of some parts specified by their codes and quantity of each piece.
A "batch quote" function set was implemented for this case. Users can copy two columns from the Excel sheet (part code and quantity) and paste the data into the search box.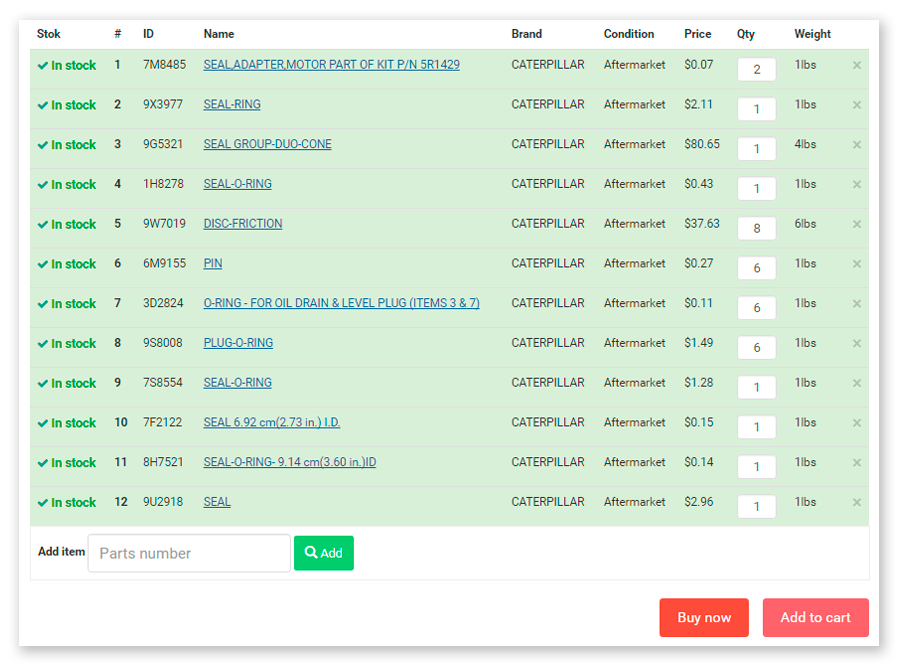 Parts you find can be added to cart or ordered immediately. In other words, the wholesale buyer has the opportunity to work with two carts at the same time. Search results can be edited similarly to the list of products in the cart: you can add or delete an item to/from the search list.
The system is advisable for many b2b services, whose customers are familiar with their products and primarily execute a search by id codes or other vital characteristics.
Calculating international delivery costs
Globalpartszone had a task to find buyers all over the world, in addition to the US market and deriving the delivery cost to various countries was a quite complicated task.
The decision was made to integrate FedEx, UPS and DHL delivery services through the API. However, in the process, it turned out that such integration was somewhat problematic and, at the same time, the query processing speed was too low and slowed the work down. It was also necessary to have pre-calculated data on the costs of shipping goods to get better results from local SEO.
As a result, Globalpartszone.com created a database on the costs of delivery to different countries depending on the shipping package weight: packages from 1 to 100 pounds for 229 countries. In case there's no data for a country or a package weight, the system automatically updates the database once the missing information is acquired. The database is continuously updated, automatically, in real time.
The user's region is also determined by IP-address to make it possible to correctly estimate the cost of delivery to a specific area without users' participation.
Order payment
Various payment options are accommodated by the function of generating invoice templates that can be sent by email or printed via a printer. These templates automatically fill in the data already provided by users during the checkout.
PayPal was chosen as a payment gateway most popular and familiar to our target customers. PayPal service perfectly meets all the criteria for order prepayment.
PayPal is widely spread in the United States and neighboring countries. Users trust this service, which allows you to receive an advance payment easily. In the case of disputable issues, the service provides a reasonable arbitration.
The service API utilized for data transfer. That provides more freedom on how to interact with the payment system. As soon as the order placed in the internal accounting system, the "Payment pending" status assigned to it. The system sends order data to PayPal through a specially generated form.
After the actual payment processing, PayPal sends an IPN (Instant Payment Notification) request to the website, the CRM system confirms its receipt and changes the order status to "Paid." Also, with the help of IPN-requests from PayPal, order status changes automatically — whether the payment canceled or money was returned to the client because the product was unavailable.
Promotion of Globalpartszone.com
The project was originally a start-up with relatively modest opportunities; thus no investment in advertising or other paid tools were planned. The main focus was on product development, services automation and traffic growth due to search engines.
At the start, the project encountered severe problems with page indexing. Google has indexed about 600 thousand pages in the first few weeks. However, 80% of the pages dropped out of the search engine index within a month.
The project team spent the next few months solving this problem in all possible ways, like:
Collection and aggregation of additional data on products.

Automatic generation of meta titles and descriptions for different types of pages under a given scenario.

Use of unique images.

Clustering products by similar features.

Database query caching for accelerated product data display.

Switch to HTTPS.
Updating product details in real time
To improve the quality and comprehensiveness of the product description, we implemented a function of collecting data from open sources in real time.
For example, some spare parts' details extracted from various specifications and PDF documents found online: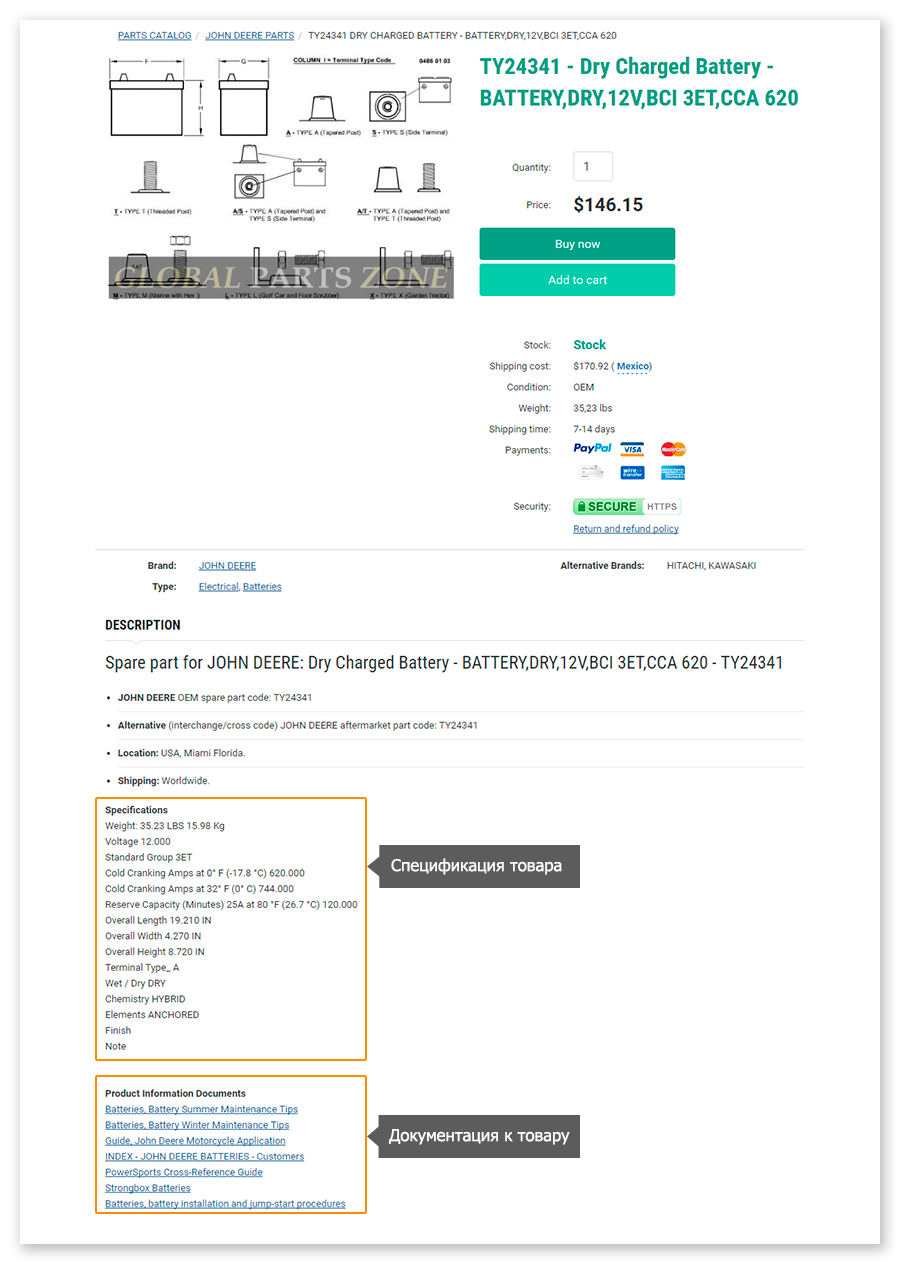 Case of product details at the Globalpartszone.com
Parsing data from open sources: if there is data about a specific product, which can be obtained using requests of the same type, start the process of parsing by product code or other characteristics. Data parsing was done by the PHP Simple HTML DOM Parser library, which makes it possible to get the necessary elements quite easily.
The data is then analyzed and grouped. The product cards are updated and supplemented with details automatically. That's how we got different instructions, specifications and detail diagrams.
PDF instructions were originally presented as external links to third-party resources. The technology of hiding links from search engines was used to prevent these external pages from leaking into indexing. It was achieved by prohibiting indexing of Ajax scripts that generated links on these pages. Later, these files were transferred to the project server and links to these files converted to internal ones.
That allowed us to aggregate the maximum amount of useful information about each product within and increase the unicity of content.
Automatic generation scenarios: metadata and page headers
Unique metadata and page headers are one of the most important factors influencing the probability of search engine indexation. We developed personal generation scenarios for various types of web pages — product cards and listings — to maximize their uniqueness.
To accurately identify these product cards, information from the description was used: catalog part number, name, replacement numbers, models and types of equipment in which the part is used.
Identifiers of the products displayed on the page were used to uniquely identify these pages with lists of products (listings). For example, several identifiers of spare parts from the current page were used in the header of each page in the paging. Besides, two random countries with the minimum price of delivery to the region were displayed, in combination with thematic phrases, which were also automatically selected.
The data was then assigned to each page and did not change further on. This approach allowed us to make each title unique and at the same time relevant to the content. As a result, the indexing of these pages increased from 14 to 77%.
Unique images
It was also decided to automatically complement pictures with the name of a product and part number, to increase the unicity of the content. Thus in search results users can identify apart not only by the image but also by its identifier, which increases the efficiency of search engine optimization:
This technique allowed the search results to compete even with template images widely spread on product cards with no original photos.
Product clustering
Another significant problem was the structure of the site, or rather, its actual absence. Only a limited amount of data was available: price, name, and ID. That didn't allow for a structure on the website. In turn, the lack of structure did not allow search engines to index products, since links to those were only present on listings in paging (very deep in the hierarchy of the website pages).
Solution: we developed a structure consisting of primary segments of special equipment (engine, electrics, running gear, etc.). Each node (segment) of the structure included a list of devices and tools that fit the category (node/segment).
The list of keywords is selected for each category. If the name of the part contains one or more of these keywords, then the piece is tagged with the according to category/subcategory. In total, the structure provides 12 categories for technological nodes and 142 categories for units.
It allowed us to assign additional tags to parts to form a hierarchy of pages for each brand.
Tags can also be found in the product description. Tags improve the indexing and increase content unicity.
Caching standard database queries
The need to render directory pages fast forced us to go from database optimization and to create indexes for the most requested columns to caching database data in RAM using Memcached. The main difficulty was to maintain a balance: optimization is bound to have a positive effect, but "over-optimization" may be detrimental.
The high-performance online catalog is a crucial factor for indexing and ranking pages. It is especially vital when it comes to millions of products.
The result of this work was a significant acceleration of the website pages render. Before that, pages could load for 3 to 9 seconds. Now it only takes a tenth of a second. It is especially valuable to display lists of products (listings) since each list is initially generated based on the results of queries to the database (which is hundreds of thousands of products).
Switching to HTTPS without losing traffic
Search engines see HTTPS websites as separate resources. Therefore, it was essential to transfer information about the new website to Google and configure the redirection of the old website to maintain our current positions in the SEO game.
The website switched to HTTPS in four stages:
A security certificate implemented on the server.

A new website in Google Webmasters created.

301 redirects for old HTTP pages of the site set up.

Updated sitemap files with HTTPS pages created.
Expedite re-indexing of the entire website (including updates) was important in the process of moving to HTTPS.
The result is a rapid renewal of the whole website in the Google index with no traffic drawdown. Moreover, the indicators of the website began to grow significantly.
The result of the work done was a significant improvement in website indexing. Currently, the search engine index contains about 900 thousand pages from Globalpartszone.com.
This experience demonstrated the importance of high-quality content and technical aspects of the work of the website. The current results are encouraging, and the traffic on the website is gradually increasing.
The further vector of the project development is planned to go the same way: make services useful for users, expand the database, increase our reputation.
Automation of internal processes
In sales of spare parts for special equipment, about 50% of orders go to wholesale b2b. It involves processing a large number of goods. There can be tens and hundreds of positions in one order. In this case, the reaction speed to a request is critical, since all buyers seek to find an offer available as soon as possible.
Automating the processes of both checking current supplier balances and current supplier prices and prompt invoicing was a critical task.
To solve the problem, the following modules were implemented:
System for analyzing warehouse balances and supplier costs.

Billing through personal links to the website.

CRM-system with detailed information on transactions, user alerts and sales data transfer to Google Analytics.

Another editor's naked self-promotion: for many companies building a custom CRM is a much better option than trying to adopt an existing solution. Let GRIN tech make yours.
Analyzing warehouse stock balance and supplier prices
The system allows receiving real-time info on the availability of goods and prices of suppliers within a single interface. Thus, a manager can recheck all order items in a few minutes and, on behalf of the company, make decisions to resupply some spare parts.
The manager authorized in the CRM system copies the list of spare parts in the order and inserts it into the search window of the analysis system. Just like with the Wholesale Request on the website. The system then issues a table indicating the availability of spare parts by codes in suppliers' warehouses.
The module uses the same scripts as the supplier stock balance synch module, but an additional check is due to ensure that goods are available at this particular moment.
Invoicing via personal links
Another feature of the project was that managers could issue invoices through personalized website links. A manager can fill a cart with the necessary goods. Internally authorized managers provided with an additional function of creating personal links to the order: a manager can specify an arbitrary delivery price and indicate the client's name or state the organization.
Since many customers want to receive a ready invoice for payment, in our niche, a significant percentage of orders done through direct negotiations. That allows you to make sales, being in direct contact with your client via phone or email.
Once the user gets to the website via a personal link they can only fill a few fields to place an order.
Each such link has UTM tags that mark a user session. Thus, it became possible to track the number of clicks on links from different managers. If the client places an order, then UTM-tag data is assigned to orders in the internal accounting system to determine the financial performance of managers.
Development of a CRM-system
To keep all active orders in sight and not to miss any of the essential details, Globalpartszone's team developed its own CRM-system.
Yet another editor's naked self promotion: for many companies building a custom CRM is much better option than trying to adapt an existing solution. Let GRIN tech build yours.
All transactions of the project are relatively short-term, and have three primary states:
Waiting for payment.

Paid.

Sent or canceled.
Each of these states can be divided into smaller stages: 15 options are provided in total (for example: "The order has been changed," "Awaiting additional payment," "Delivery to the warehouse is pending"). At the same time, the main task is for managers not to lose transactions from the field of view and give feedback to customers about the course of order processing. All the statuses and order states are assigned different colors to make it easier.
In the transaction description you can find all the details of the order:
Personal data of a buyer.

Buyer's info from PayPal.

The number of the order.

History of change in the transaction status
Besides, managers can make their notes and assign tracking numbers to those orders that have already been sent through one of the delivery services. Each change in order status or assignment of tracking numbers accompanied by a special email message to the user.
To analyze the financial performance of managers in the framework of the CRM-system, queries are sent via the Measurement Protocol (Google Analytics API). As a result, you can analyze the financial performance of managers in Google Analytics reports, based on the paid orders.
It now became possible to hire remote personnel with salary dependant on final results. In other words, this system allows you to organize a performance-based reward system for internal sales team and affiliate marketing.
Globalpartszone.com results
The main result was a relatively rapid growth in turnover, which allowed the company to reach a stable profit. The annual turnover of the project currently exceeds $1 million.
The main conclusion in this story is the possibility of creating a viable business within a year — all due to a good team and competent decisions. The project performance in search engines is predictably growing, and the high level of automation allows us to process all incoming applications efficiently and on time.
At the moment, the project has a consistently high turnover and continues its development. The primary mass of our warehouse resources available for sale are connected to the Globalpartszone platform and are also presented on eBay. Plans for the near future include improving the quality of service and developing new products for our customers.
Spare parts sales in the segment of specialized equipment have enormous opportunities for development online. The project team is currently developing international online services that focus on standard vendor processes automation.
Have idea of your own? Hire a dedicated team to build it