Link building is a widely used term when speaking about SEO (i.e., getting 'free' traffic from Google organic search results). In the broader sense, I'd call it 'online pr' though, because:
There are links one can build to gain more 'authority' in the eyes of Google.

Such links often do not generate any traffic though.

There is also a PR thing centered around 'live' traffic. E.g., wouldn't it be cool to get an article featuring your startup in Tech Crunch?

Such media coverage can and should lead to direct respond (e.g., registrations, sales, etc.) but is not scalable
I've been stack with the whole thing for a while until a realization came, that money makу this task much much more straightforward. Most guides focus on "how to get this and that for free." While this is the case for established companies & hobby enthusiasts, I believe that for many entrepreneurs getting a predictable result fast is worth the money as they have a budget to allocate.
So, let's dig in some options. Disclaimer: these is pretty much the toolset I use and therefore it is not your average 'complete list of tools to do link building.'
You write a press release once and then a service syndicates it via its network of sites and if it is good enough other sites will pick it up as well. I use a Newswire to skyrocket the coverage for just launched projects (costs something like $330).
For example, it yielded something like 250 websites for a Logomachine collaboration (brand identity design in fixed price & time).
Manual outreach
The title is somewhat self-explanatory, huh? Ideally, you look for writers with editorial connections or someone inside the editorial team so that you can pitch them with guest blogging opportunities, press releases, interviews, etc.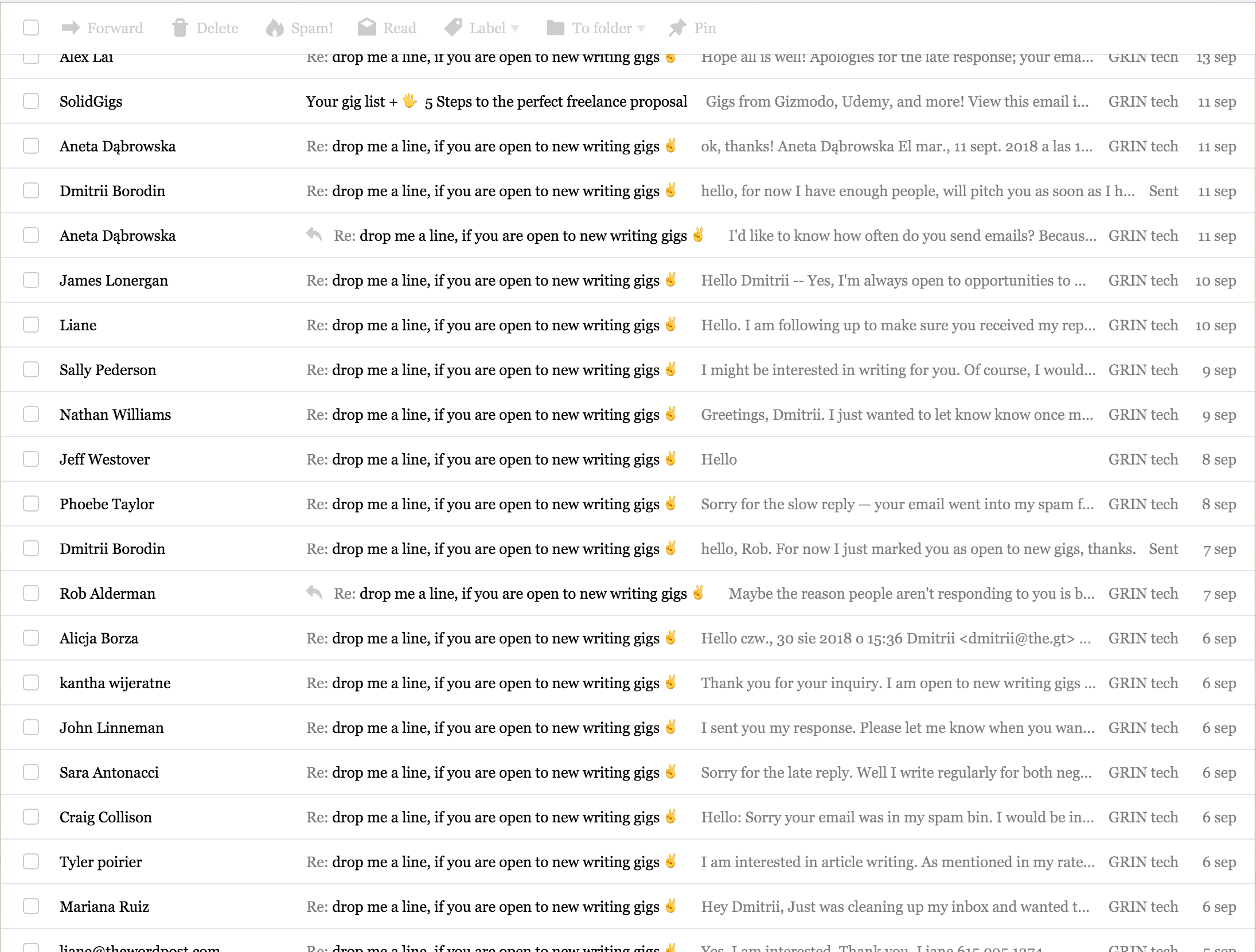 Manual outreach example I did in September
Update: we released GRIN launcher and now offer media coverage outreach campaigns. See how it works and pricing.
Advantages are obvious:
'Live traffic' with a potential of direct response
Long lasting relationships' ROI increase over time
Disadvantages:
Hard to pick contact details
Hard to make people respond
Hard to scale the thing
At this point, I have a vague idea of how to solve problems that arise with this method. Directions so far are:
Test Buzzstream service
Build my system based on custom CRM and cold emailing technique to fetch contact details
I will update this article as soon as I get results on those.
Content Syndication
This one is a mix of manual outreach and paid a thing. Contento.marketing is charging just $9 bucks for pitching an impressive list of media.
Placement is not guaranteed (some media decline your writing)
Price range is quite impressive
There is a good possibility of direct response here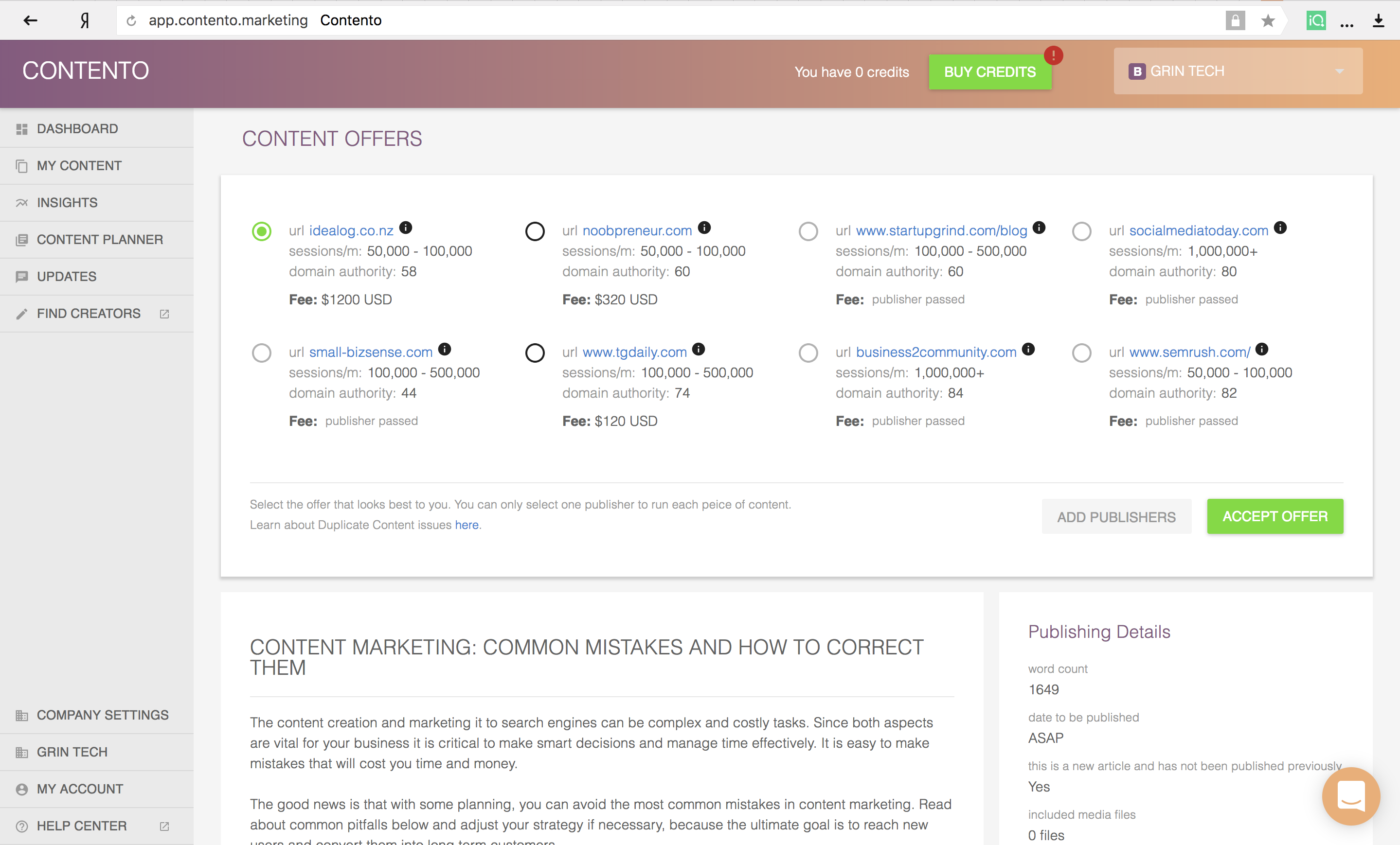 Screenshot from admin panel and one of the articles I am about to place
Fiverr
The most straightforward way to kick start your online PR.
Cons & things to keep in mind

Every website there should be reviewed by you manually – can't go on buying rampage
Avoid dirty cheap prices – these are computer generated texts and some cloak websites
In most cases, I'd recommend going with writing the article yourself. It might be tempting to save yourself a few hours for $15 or so, but trust me – it is not.

Pros & why it is still cool

Scalable. Yes, you dig through a lot of junk, but at the end of the day you land sweet deals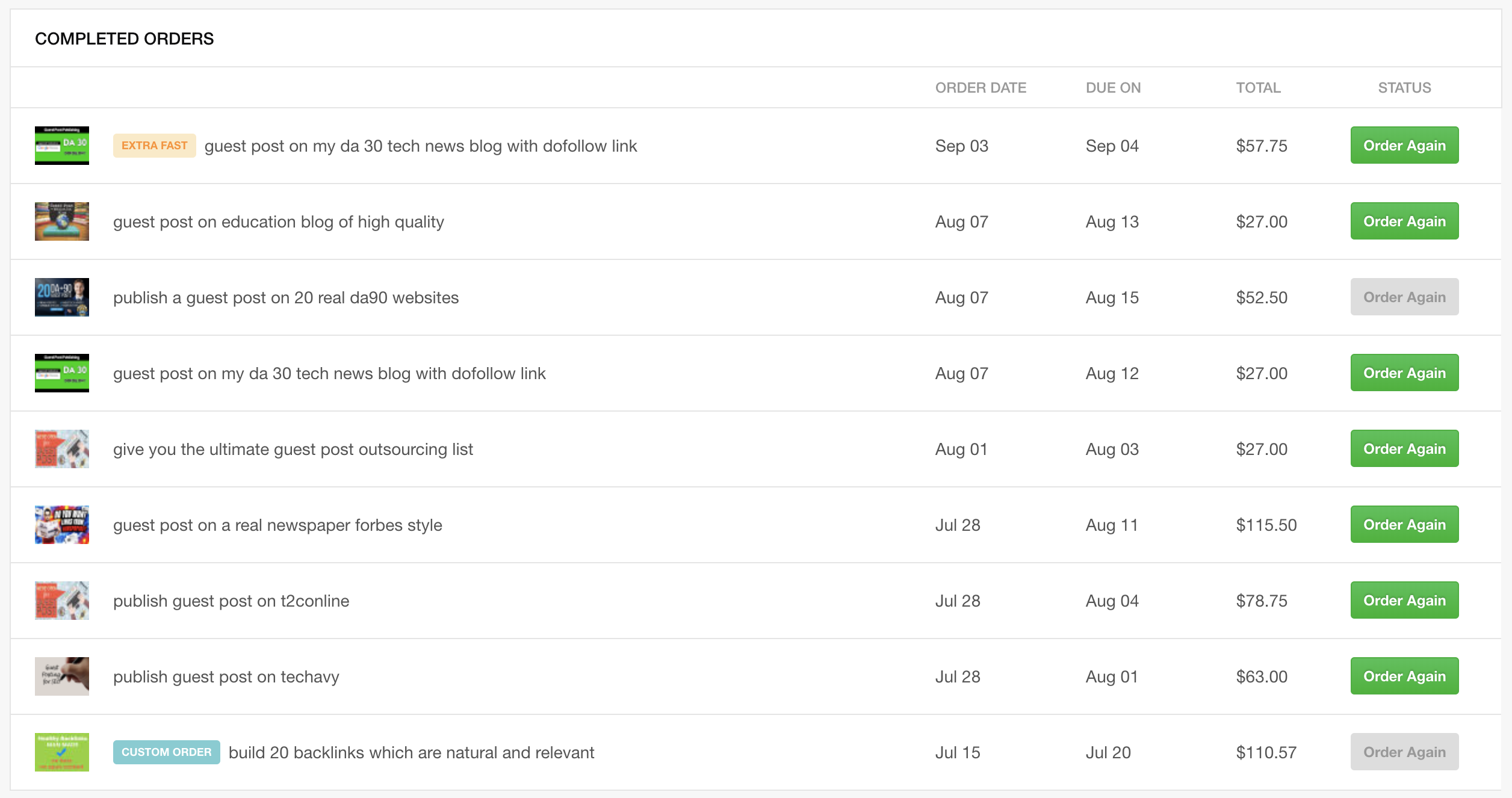 How to
Search for 'guest blog post' gigs
Check the websites (sometimes you should ask explicitly for a link) with a tool like AFREFS. You are looking for websites with good authority numbers, and that is not losing traction quickly (like organic traffic decrease). TIP: I also check for the overall website look – would you be ashamed to have your brand mentioned there?
Can't stress this enough – write articles in-house.
I also suggest allocating a budget over the long term. E.g., doing $300 every month. That does look like a proper work on building editorial relationships.
To sum it up on online PR
So, if 3 out of 4 tools featured are open and relatively easy to use, why does GRIN tech charge money for Online PR & link building?
First, it still requires content creation, website assessments (e.g., via Ahrefs) and some general (big picture) perspective.
Second, we don't have such a standalone solution; we sell Content Marketing for that matter. Because of that's where the real magic happens – design, code, copywriting and marketing mix to build long-lasting business assets.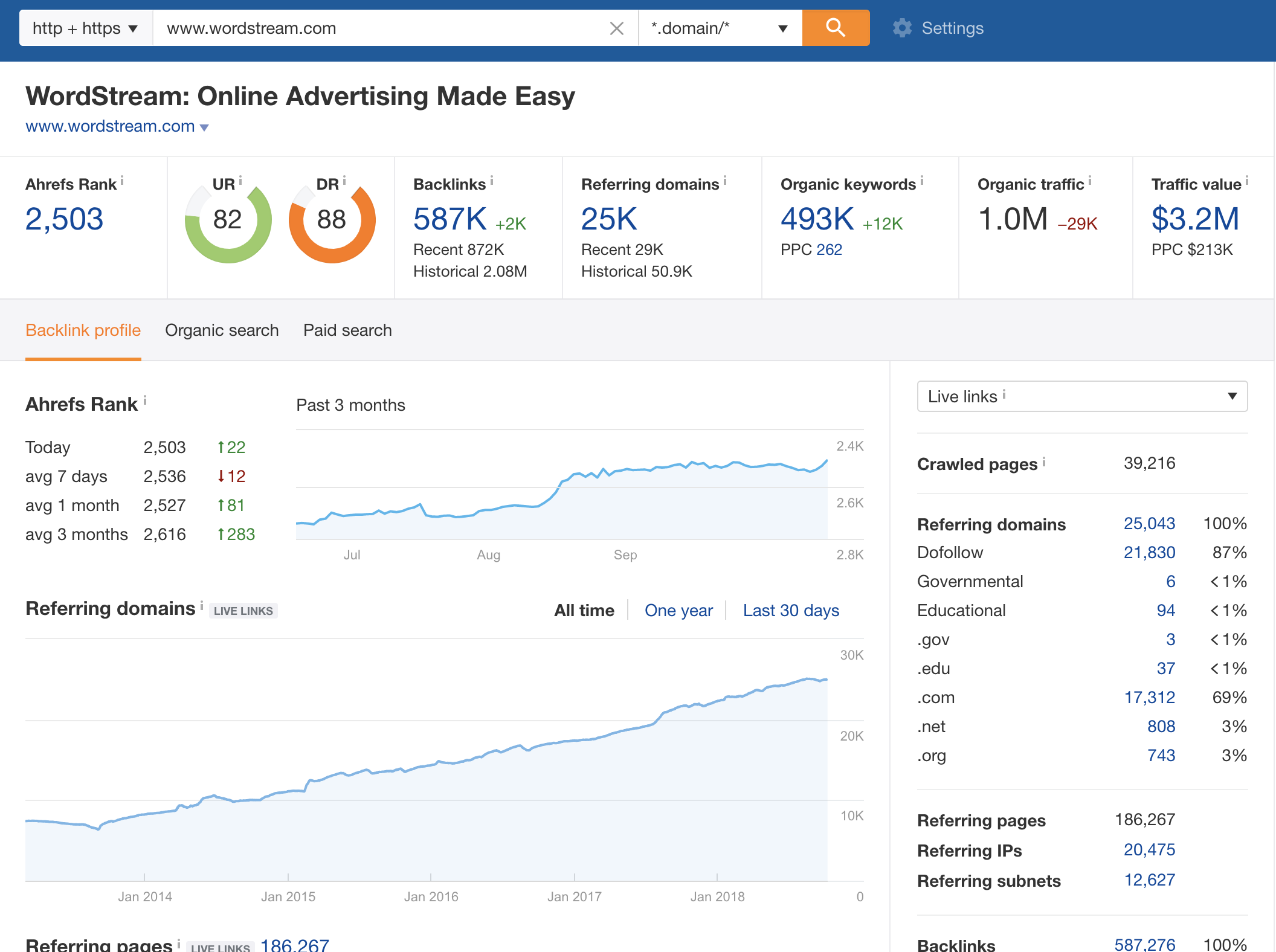 Wordstream.com traffic value (monthly figure)
Other articles related to business tools
Like what you see?
GRIN tech is available for work.
Hire Us