See our research based on top-10 Google results (June 21, 2019)
Compare with GRIN tech's pricing
GRIN tech's solution
In most cases, a simple website to display business information and generate leads is just enough.
GRIN tech can provide such a website for a fixed price of $900.
Payment is result based.
Here is our design portfolio so you know what quality to expect.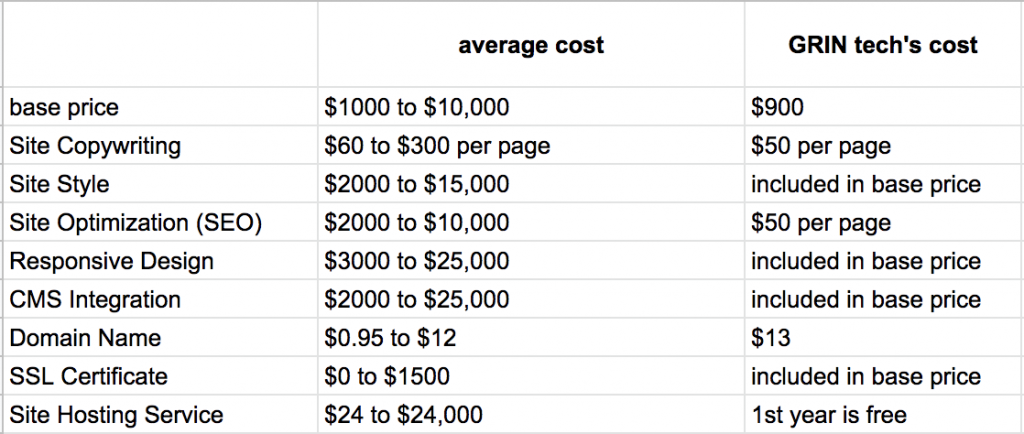 Nice to have: blog to build organic traffic, e.g. via our affordable SEO services for small business
How much does an e-commerce website cost?
If you have a few dozens of products GRIN tech can deliver online store in 7 days for $1100 on Tilda. The shop will

have rad & responsive design
have a simple CRM system,
be ready to take orders of course 🙂

For a bigger number of products, we recommend using WordPress + WooCommerce plugin + Premium WordPress Theme to cut the budget on design and development. The store will be ready in 16 days for $1600.
We can also create custom coded (PHP or Python) stores tailored to tens of thousands of items and unique features, but small business rarely needs it.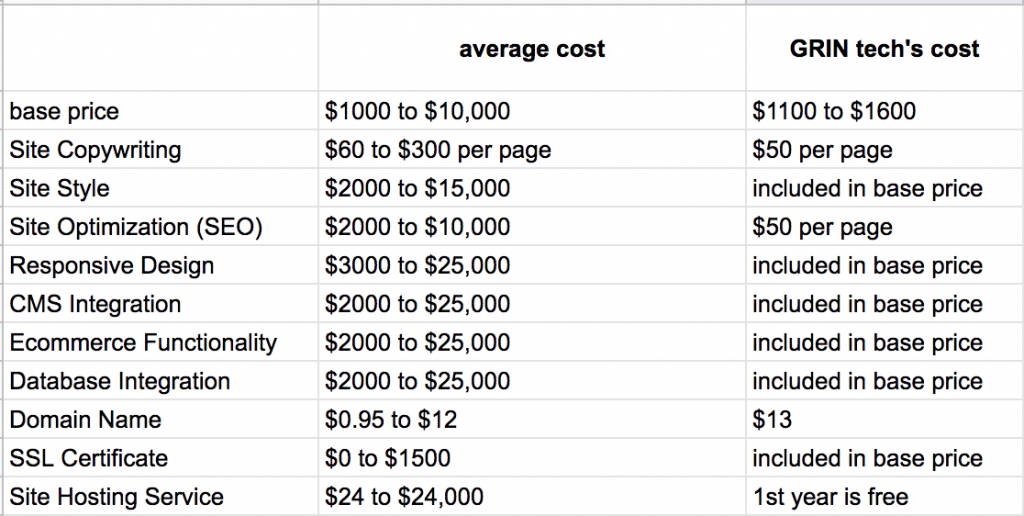 How much does it cost annually to run a website?
For every new client, we provide a year of free hosting on our corporate monster server @ Hetzner (32GB RAM).
We'll help you setup domain name, hosting, emails and whatever you need. No hidden costs.
A domain name (.com) on average costs $13 a year.
What does it cost to redesign an existing website?
To sum it up on the average cost of website design for small business
Simple website for small business: $900
Online store costs from $1100 to $1600
How can we offer such competitive pricing?
Because we are an offshore & distributed team on a mission for helping small businesses generate Predictable Revenue via online marketing.
Get Started & invest in your future today.