What is GetResponse?
GetResponse is an online marketing platform that claims to be one of the easiest all-in-one solutions for online marketing.
They've been around since 1998 and its platform is available in 24 languages. A testament to the Company's global orientation.
Alongside email marketing services, GetResponse offers marketing automation, landing pages, opt-in forms, webinars, CRM system (customer relationship management; don't you have one yet? check out our ultimate list of 146 CRM software with reviews), and e-commerce functionality.
GetResponse university has free courses on email marketing, list building, and CRM for small businesses.
Company's Profile
Website: getresponse.com

Founded in: 1998

Founder: 

Simon Grabowski

Headquarters: 

Gdańsk, Poland

Total Users: 

350,000+ customers globally

Revenue in 2018: $30 M

Operates in 182 countries
Plans and Pricing
GetResponse offers a 30-day free trial. It has four plans varying from $15 to $1199 per month.
🤘 What if there is a better affiliate program?
What is GetResponse Affiliate Program?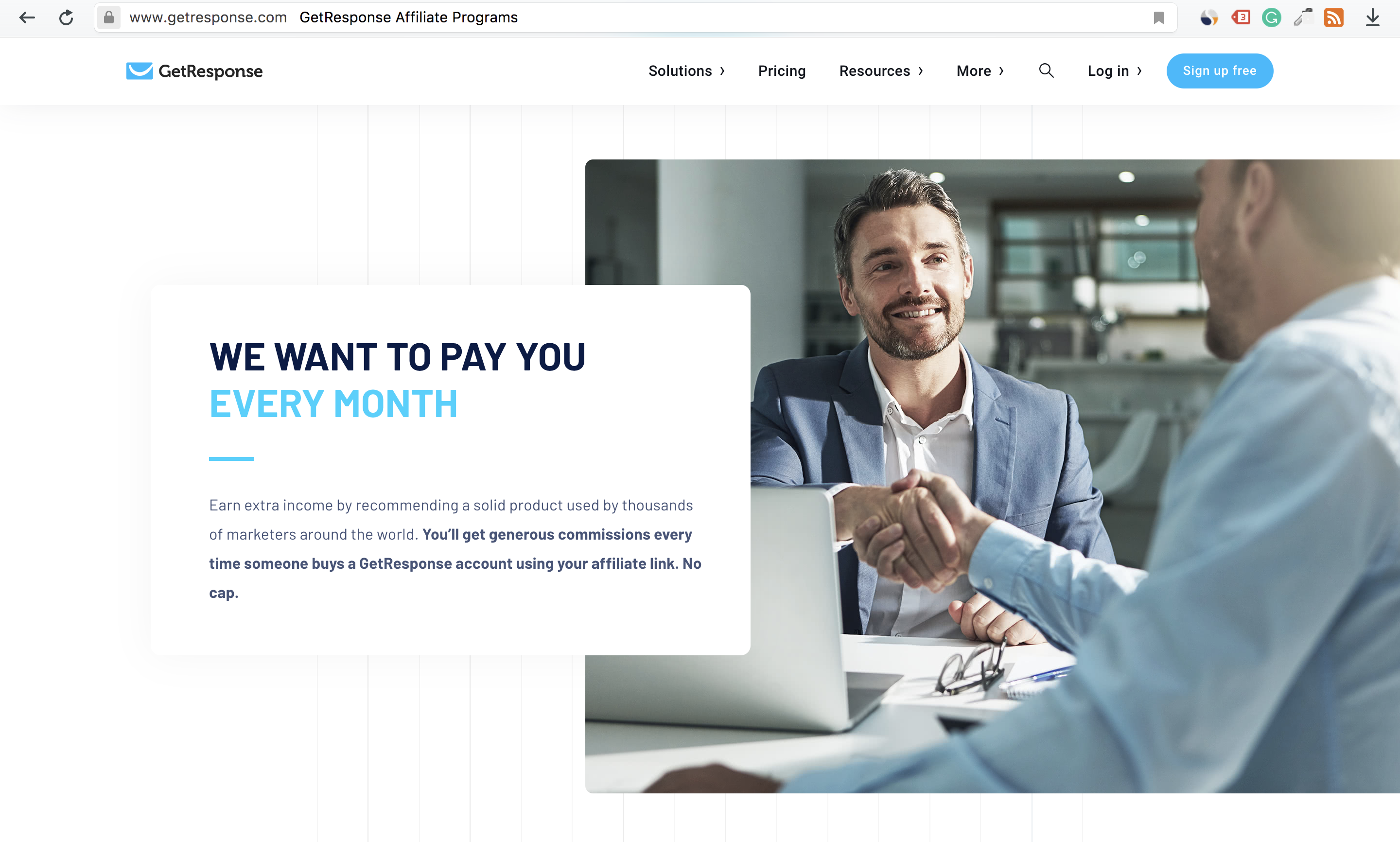 Firstly, for a layman, what is an affiliate program? Affiliate program also called an associate program, is an arrangement, where a website pays its affiliate websites for directing traffic towards the former. The affiliate sites, post links of the paying sites and get paid as per the agreed payment plan.
The GetResponse affiliate program, therefore, enables the affiliates to recommend GetResponse services to the potential buyers and in turn receive a commission, when a referral makes a purchase.
GetResponse Affiliate Link Tracking
Having signed up with GetResponse as an affiliate, their links can be added to your blog or website as and when relevant content is posted. As GetResponse affiliate, your links will be tracked and GetResponse would know when a customer reaches them through your website or blog. In return, you get your commission.
Types of GetResponse Affiliate Programs
Direct. It is a self-hosted affiliate program that can be joined by signing up at the website directly.
Through Affiliate Network. GetResponse affiliate program can also be joined through the Commission Junction affiliate network.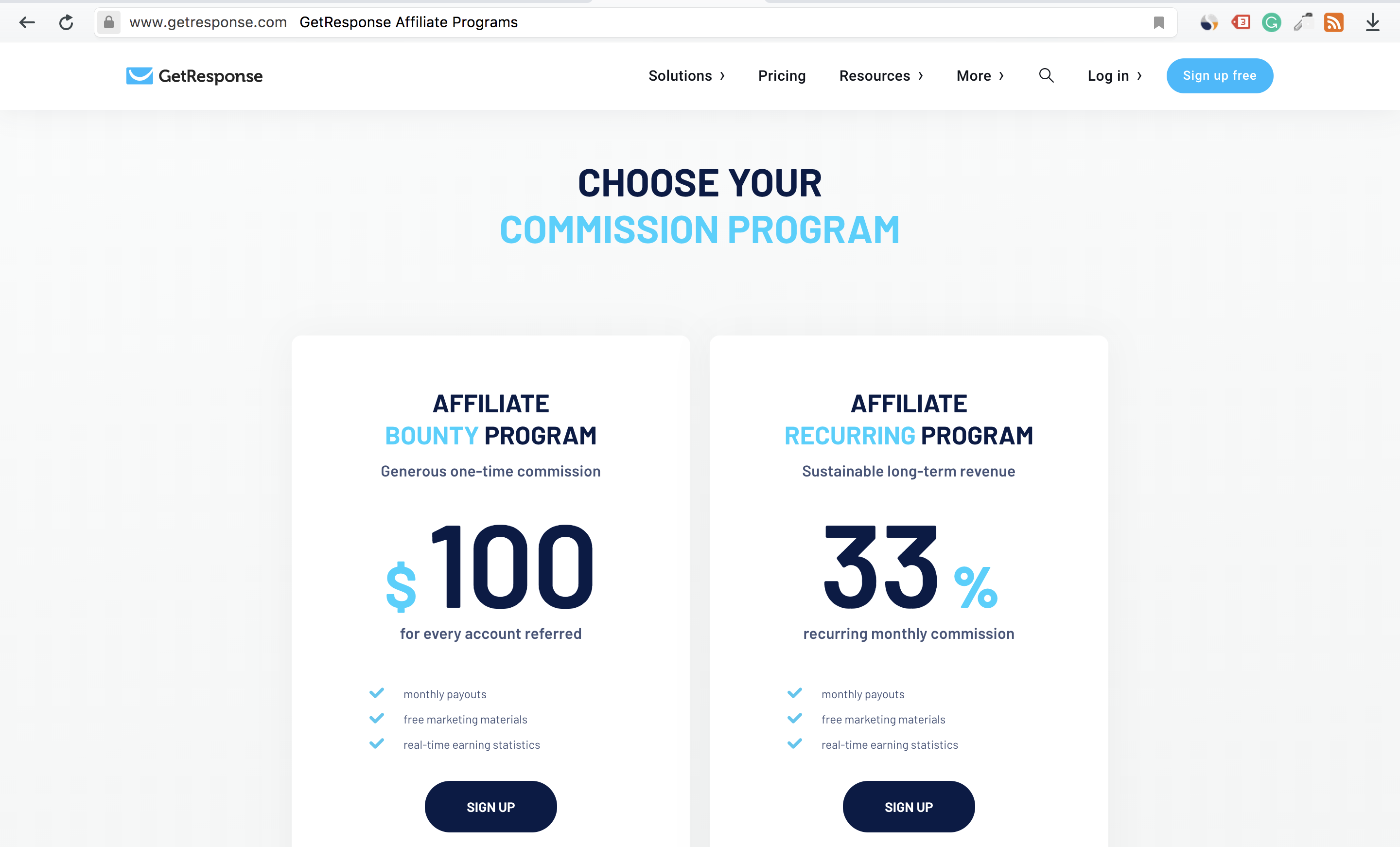 Commission Rates on GetResponse
The self-hosted program pays a 33 percent recurring commission. The recurring payout will last for as long as the customer continues to pay. If the customer upgrades to a higher-priced plan, your commission will increase accordingly.
The Commission Junction affiliate program, on the other hand, pays a one-time bounty of $100 for every sale. Both programs have 120-day cookies, which means, an affiliate link is valid up to a period of 120 days for conversion and subsequent commission.
✊ GRIN tech's program offers recurring commissions
How Slick is the Affiliate Service?
The GetResponse affiliate dashboard is easy to understand and quite comprehensive. It provides and fully functional affiliate marketing dashboard with a complete track of all the clicks on your links and related conversions and sales.
It also gives a detailed report of all your earnings and what links convert better and which are not faring well. And then it has a rich repository of marketing tools, such as banners that you can add to your blog or website; a ready-made arrangement for a sponsored link.
What are the Program Benefits?
The signup process to become an affiliate is uncomplicated and clear.

Commission Junction approval times are usually quick.

The company offers both recurring and one-time commissions. The rates are good, and the commission is upgradable in case the referred customer decides to upgrade.

Both programs have 120-day cookies. Its 30-day free trial helps to convert prospects into customers, by giving them time to test the platform.

The payout threshold of the company is quite low. In order to qualify for the payout during the Commission Run (in between 15th and 20th), the balance in the account should exceed $50 on the last day of the preceding month.

Deep linking is available for both programs.

GetResponse has excellent marketing materials, which are available in multiple languages. It includes banners, texts, email message templates, infographics, videos, and other company's collateral.

There is an excellent affiliate support service. A dedicated marketing manager is provided by the company, for guidance and advice. Additionally, the company has a detailed FAQ page.

You don't have to be a GetResponse user to be an affiliate.

It provides a very simple and user-friendly dashboard that is easy to work with and manage the whole affiliate process.
What are Program Drawbacks?
GetResponse is lagging in competition. The user reviews aren't very encouraging, which clearly indicates that the company isn't among the preferred choices of the customers, lately.

GetResponse provides a good package for affiliates, but it lacks the matter to support conversion rates. An affiliate program is only as strong as the product or service behind it. The company needs to really back up its website and product services.

GetResponse doesn't offer a free plan. Free plans are much better than free trials. As free accounts are useful to get customers hooked to the company and to increase conversions from free to paid plans.
Can You Make $1000 a month as GetResponse Affiliate?
Despite a reasonably good affiliate program at offing, it is unlikely that you are going to make $1000 a month as an affiliate to GetResponse. Good for petty money and occasional surge, but the site isn't recommended as a recurring and consistent source of income.
Other articles related to Affiliate Marketing
Like what you see?
GRIN tech is available for work.
Hire Us