What is Wix?
Wix is a cloud-based drag-and-drop tool that makes it easy to create a professional website – without writing a single line of code.
With hundreds of templates and great tools, Wix assists you to build HTML 5 web and mobile sites and also sell goods and services through your site. Beginner-friendly and scalable, Wix is suitable for anything from online portfolios to online stores.
Company's Profile
Website: wix.com

Founded in 2006

Founders: Avishai Abrahami, Nadav Abrahami, Giora Kaplan

Headquarters: Tel Aviv-Yafo, Israel

Total Users: 150M

Revenue in 2018: $604M

The company operates in 190 countries
Plans & Pricing
Wix has eight pricing plans, ranging from $13 to $49 per month (billed annually), as well as its free plan, plus a specialized business solution called the Enterprise plan, which costs $500 per month.
🤘 What if there is a better affiliate program?
What is Wix Affiliate Program?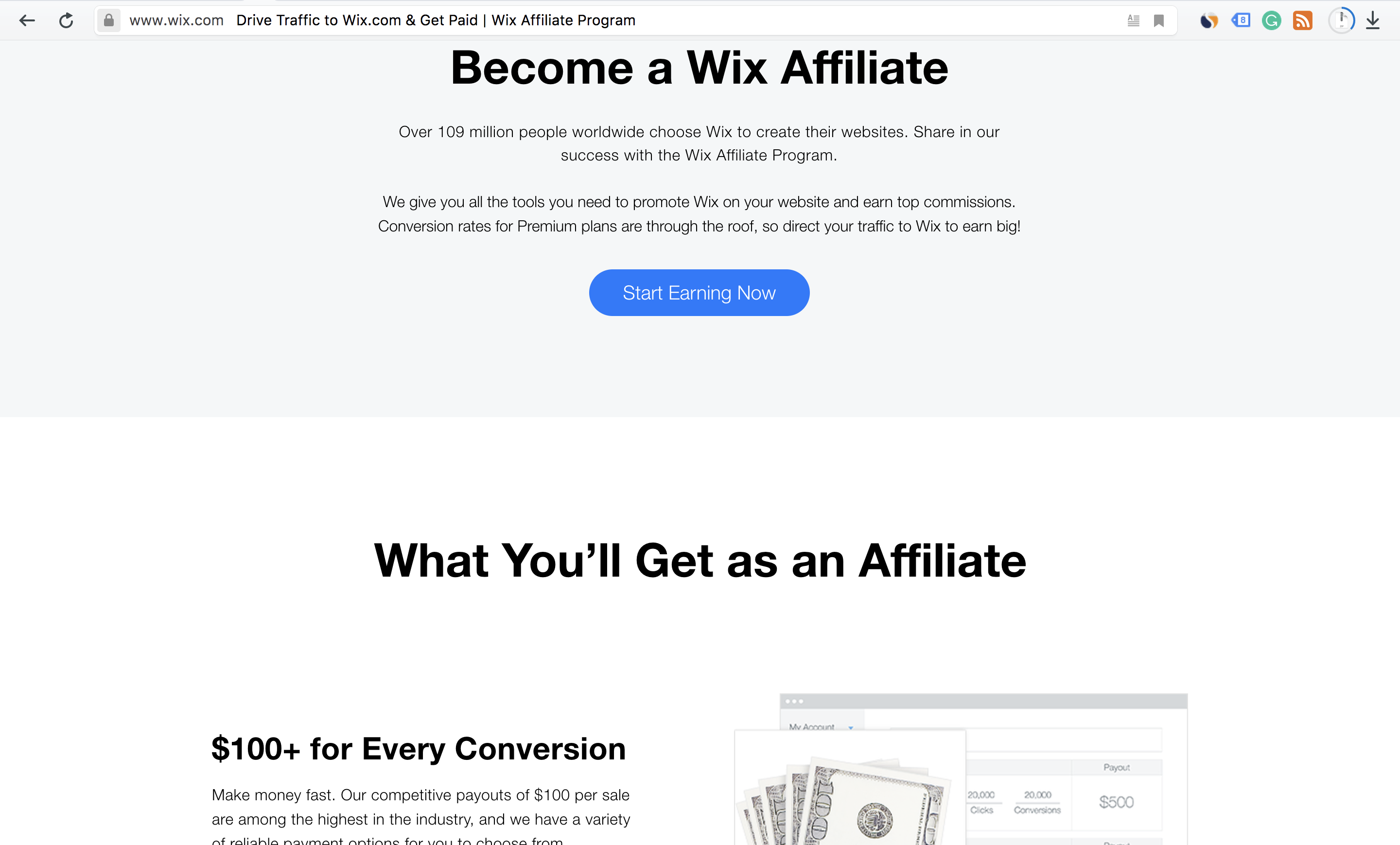 Firstly, for a layman, what is an affiliate program? Affiliate program also called an associate program, is an arrangement, where a website pays its affiliate websites for directing traffic towards the former. The affiliate sites, post links of the paying sites and get paid as per the agreed payment plan.
The Wix affiliate program, therefore, is an arrangement, where you are paid for making referrals to the aforementioned site.
Wix Affiliate Link Tracking
Wix allows the referrals through all possible ways online, that is, blogs, social media, emails, and paid ads, etc. So, having signed up with Wix as an affiliate, their links can be added to your blog or website as and when relevant content is posted. As an affiliate, your links will be tracked and Wix would know when a customer reaches them through your website or blog.
Wix Affiliate Links contain unique identifiers, allowing them to track any traffic directed from your website to Wix. Wix tracking system "remembers" your URL, thereby, guaranteeing that, you will be credited for any Premium sale, you refer to Wix.
Additionally, Wix follows the First Click Model for awarding the commission to a link. This means, your affiliate link must be the first Wix ad that a visitor clicks. For example, if a visitor clicks on a Wix ad on your site, then clicks on someone else's ad, the commission will be granted to you when the visitor purchases a Wix Premium Plan.
Lastly, just remember, the Wix affiliate cookie's life span is 30 days. That means any user that uses your link to sign up or visit Wix must subscribe/buy a service within 30 days after being referred through your link, otherwise, you don't get any commission.
Commission Rates on Wix's Affiliate Program
Wix affiliate program is quite generous in its commission rate. You'll earn $100 per Premium user.
The more sales you refer, the more you get paid. However, you must earn a minimum of $300 (USD) per month to get paid. All earnings and ongoing conversions will remain in your affiliate account until you meet $300 threshold. Once your account reaches this amount, you will receive an email around the 15th business day of the month with details on how to get paid.
✊ This program offers recurring commissions
How Does Wix Affiliate Program Work?
Register as an affiliate on Wix for free.

Promote Wix through your online platform and help grow the traffic on the Wix website.

When your visitors click a link and sign up to Wix Pro, you get $100 for every premium package purchased by your referrals.
Types of Wix's Affiliate Programs Available
Wix offers a self-hosted affiliate program. It has not partnered with any other affiliate platforms like CJ, Zanox, IMPACT, etc.
How Handy is the Affiliate Dashboard?
Wix Affiliate dashboard is not as good compared to other competitors. From your affiliate dashboard, you can go to "Reports" and you'll be able to track your traffic, check your payments and track your progress.
What are the Program Benefits?
The commission rate of $100 is one of the best among top affiliate programs.

The company has reasonably high sales, and correspondingly good conversion rates can be expected.

You get access to the selected premium themes, templates and offers.

It has decent blog resources. There are info graphs and banners that you can add to your blog and they do come in handy.
What are Program Drawbacks?
Though the commission rate is good, it is offered on the purchase of premium plans only, mitigating the chances of making money through referrals.

To withdraw commission, affiliates are required to make a minimum of $300 per month. This threshold is surprisingly high, and a big downside of this program.

With Premium packages costing up to $500 per month, conversion through an affiliate links is very difficult.

There is a cookie life of 30 days for affiliate links. This means you will get commission only if your referral makes a purchase within 30 days of being referred through your affiliate link.

Transparency of the Wix affiliate program has been called in by several affiliates, who have been working with the company.

Affiliate dashboard is unclear and needs a lot of work on UI and access to information on affiliate links.
Can You Make $1000 a month as Wix Affiliate?
Despite its reasonably high commission rate it is very difficult to make $1000 bucks from Wix's Affiliate Program for two main reasons:
the commission is offered on premium purchase only;

premium packages are quite expensive. 
Other articles related to Affiliate Marketing
Like what you see?
GRIN tech is available for work.
Hire Us