What is Click Funnels?
Click Funnels is a marketing tool and sales funnel builder that helps the users to list, promote, sell and deliver their products online.
More than just a simple landing page software, Click Funnels provides you with the marketing tools that make it easy to customize your templates and designs with a very handy drag and drop builder, without any coding.
This essentially means that you don't need to wait for someone to build you a website. If you know how to use Facebook, you know how to use Click Funnels. That is all that's needed.
While sales funnels are not a new thing and have been around for a long time, Click Funnels has taken the game to next level, it has made it easy for anyone, of any skill level to create something amazing. 
Pretty much any website that you can think of, you can create it in Click Funnels. This is what makes it so great.  
Company's Profile
Website: clickfunnels.com

Founded in: 2014

Founder: Russel Brunson

Headquarters: Boise, Eagle ID

Total Users: 93.8k

Revenue in 2018: $94.6 M

The company operates in 175 countries
Plans and Pricing
Click Funnels has two subscription options ranging from $97 to $297 per month depending on the features of each plan. The main differences between the Click Funnels pricing plans are the number of landing pages and sales funnels allocated per month.
What is Click Funnels Affiliate Program?
Firstly, for a layman, what is an affiliate program? Affiliate program also called an associate program, is an arrangement, where a website pays its affiliate websites for directing traffic towards the former. The affiliate sites, post links of the paying sites and get paid as per the agreed payment plan.
The Click Funnels affiliate program, therefore, enables the affiliate to recommend services of Clickfunnels to the potential buyers and in turn receive a commission, when a referral makes a purchase/buys a plan.
🤘 What if there is a better affiliate program?
Clickfunnels Affiliate Link Tracking – The Sticky Cookies
Having signed up with Clickfunnels as an affiliate, their links can be added to your blog or website as and when relevant content is posted. As Click Funnels affiliate, your links will be tracked and the company would know when a customer reaches them through your website or blog.
The Click Funnels, however, has taken the affiliate link tracking a step further. Their affiliate marketing software uses a diligent way to track concerned links. They use something called sticky cookies. The sticky cookies track the earnings of each affiliate irrespective of time delay. Once a customer clicks on your affiliate link, a sticky cookie is attached to it. This means that irrespective of time, whenever, the customer makes a purchase or signs up for any service, your sticky cookie will tip off the Clickfunnels and you will get paid.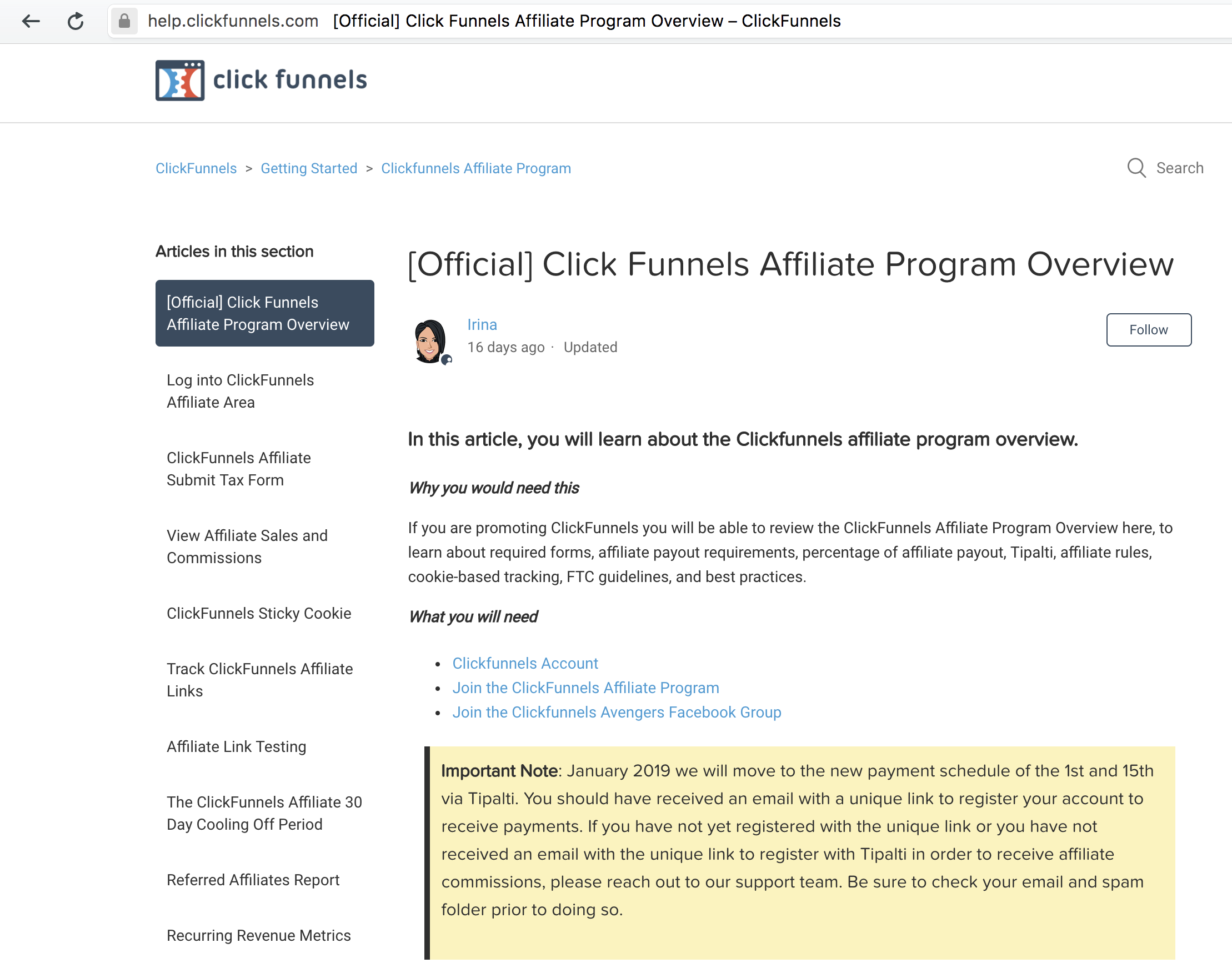 Commission Rates on Click Funnels
Click Funnels offers one the best commissions pout there.
A substantial, 40% recurring commission is paid to the affiliates on sales of Click Funnels. And this percentage of commission is also valid for sales of one-time promotions and other Clickfunnel products. For example, Click Funnels online webinars, books and more, not just the funnel software.
Other than this, a bonus of making use of the Click Funnels affiliate program is that if anyone is to sign up and become a monthly paying member under you, you receive a 5% commission on every sale that your sub-affiliate makes.
Another way to make money is by using Click Funnels share funnels feature. This feature enables you to share your funnel creations to other Click Funnel users (and even non-users). When you share your funnels and your Click Funnels affiliate link is used by someone, the funnel will be automatically added to their list of usable templates. If not, the person is asked to start their free 14-day trial. Once a free trial is up, if the person stays on and becomes a paying Click Funnels member, you receive a commission.
Click Funnels incentivize its affiliates by a dream car offer as well.
Clickfunnels offers its affiliates to buy them their dream car if they make 100 successful referrals in a month. This is done in monthly payments of $500 – $1000 if given affiliate maintains his or her record.
✊ GRIN tech's program offers recurring commissions
Types of Click Funnels Affiliate Programs
Direct. A self-hosting affiliate program that can be joined by signing up directly with the Clickfunnels.
Sub Affiliate Program. In this as a Clickfunnels affiliate, you can refer others' potentials to become sub-affiliates, who will sign up under you. This way, you will get 5% of every commission, that your referred affiliates make for themselves. And this too is on a recurring basis.
How Handy is the Clickfunnels Affiliate Service?
The Clickfunnels affiliate program is very transparent. It gives the affiliates full access to fully monitor their progress. Affiliates can view weekly or monthly reports on the status and successes of their links.
Also, which of the funnels and which products within the funnel produced the affiliates. Nothing is left to the imagination, so nothing can go wrong.
What is Good in this Program?
The 40% recurring commission is probably one of the best rates offered by affiliate programs out there 

The commission is offered on all products and limited-time offers of the company as well.

The sub-affiliate program, further help earn money, which is an icing on the cake.

The sticky cookie link tracking makes sure that the affiliate gets paid for even late purchases by the referral.

You don't have to be a Click Funnels user to be an affiliate. However, if you are a user, you are already an affiliate.

Click Funnels provides one of the most elaborate and transparent affiliate dashboard/system.

The company offers incentives to the affiliates, like buying them their dream car; of course, in return to really good work.

Flexible payment options; through PayPal or check.
What is NOT so Good in this Program?
There are no mentionable drawbacks in the program other than a 45-day cooling-off period for payment of commissions, which isn't that bad, anyway.
👋 Check out GRIN tech's affiliate program
Can You Make $1000 a month as Click Funnels Affiliate?
Click Funnels offers multiple options and good commission rates to its affiliates. The company has good conversion rates as well.
If you are looking to earn $1000 a month as a Click Funnel affiliate – you are probably bidding for the right horse.
Other articles related to Affiliate Marketing
Like what you see?
GRIN tech is available for work.
Hire Us