What is ConvertKit?
ConvertKit is a handy email marketing service provider for online business management.
It is an auto-responding email too that, helps grow email lists, manage it by sending automatic and timed emails as required.
In addition, it provides marketing automation, opt-in forms, landing pages, migration support, and a WordPress plugin.
Company's Profile
Website: 

convertkit.com

Founded in: 2013

Founder: Nathan Barry

Headquarters: Idaho, USA

Total Users/Customers: 20,000+

Revenue in 2018: $13.8M

The company operates in 100 countries
Plans & Pricing
ConvertKit offers no free plan other than a 14-day trial. Prices of the plans vary from $29 to $79 monthly subscription. Other than this, they provide custom plans for more than 5000 subscribers.
What is ConvertKit Affiliate Program?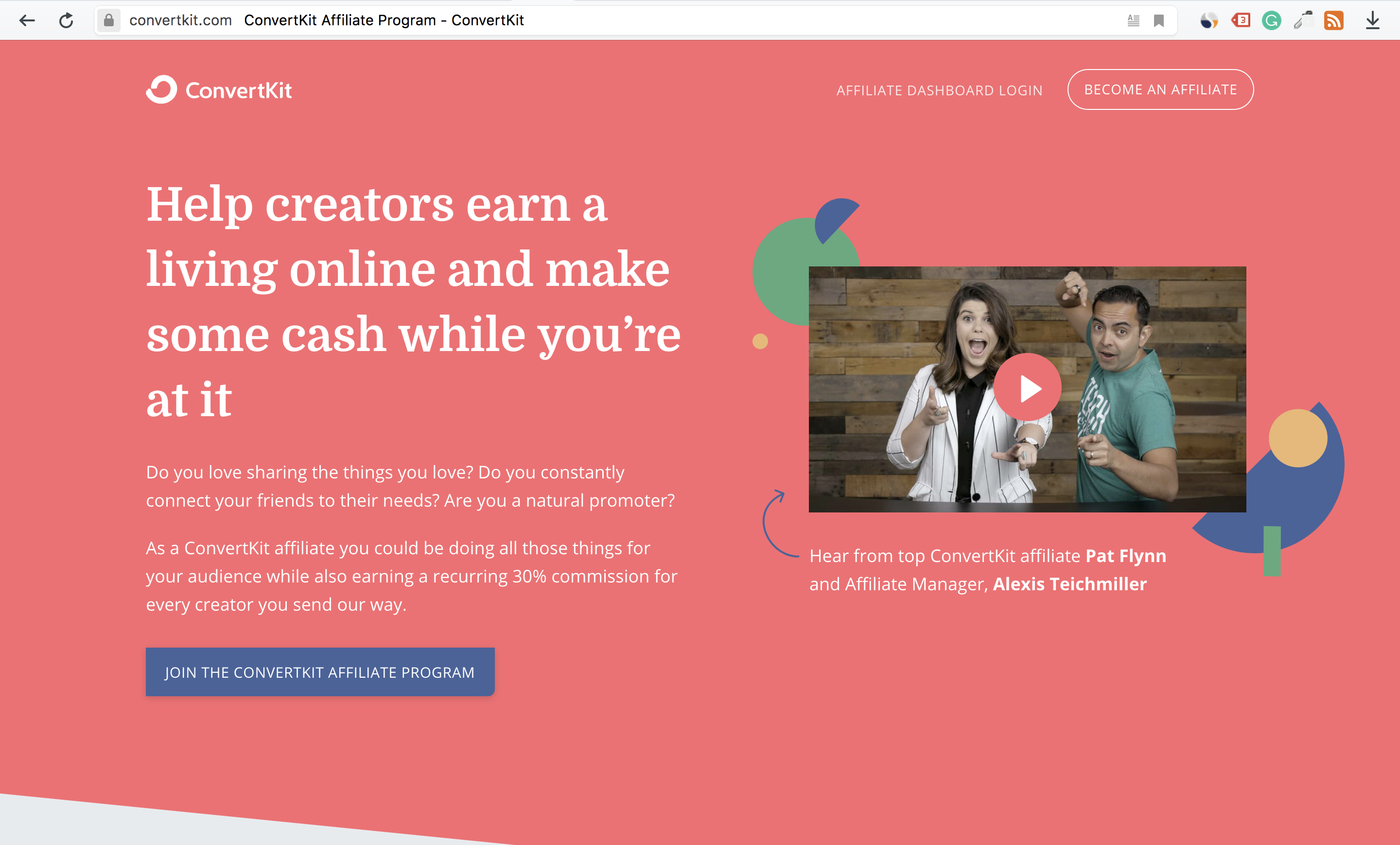 Firstly, for a layman, what is an affiliate program? Affiliate program also called an associate program, is an arrangement, where a website pays its affiliate websites for directing traffic towards the former. The affiliate sites, post links of the paying sites and get paid as per the agreed payment plan.
The ConvertKit affiliate program, therefore, enables the affiliate to recommend services of ConvertKit to the potential customers and in turn receive a commission, when referral purchases a plan.
🤘 What if there is a better affiliate program?
ConvertKit Affiliate Link Tracking
Having signed up with ConvertKit as an affiliate, their links can be added to the blog or website as and when relevant content is posted. As an affiliate, your links will be tracked and ConvertKit would know when a customer reaches them through your website or blog.
ConvertKit affiliate program has a 60-day cookie-based tracking. Therefore, you have about two months' time bar, to get a conversion, unlike Fiverr, where there is no time bar. In addition, affiliate link tracking uses the first-click attribution, meaning, who's affiliate link is clicked first by a customer, gets the commission.
Commission Rates on ConvertKit
ConvertKit pays its affiliates a 30% commission for every successful referral.
Plus, this commission is recurring, with no payout threshold, as long as referral continues using the ConvertKit services. This is great, as your successful referral becomes a recurring source of income.
Affiliates get a payment every 2nd day in the month via PayPal.
Types of Affiliate Programs
ConverKit offers only self-hosted affiliate programs, which means, you have to register with the site itself to become an affiliate and not through third-party hosting affiliate platforms.
✊ This program offers recurring commissions
How Handy is the Affiliate Dashboard?
ConvertKit Affiliate dashboard, like the company's app itself, is really simple and user-friendly. It offers the following information/services:
A Dashboard where you see your commission stats (earned, awaiting payout, awaiting approval, paid to date), activity overview by dates and a share widget for social media with a preset message for every channel.
Stats with numbers on shares, clicks, referrals, revenue, commission and social media.
Commissions based on customer, campaign, etc.
Payout – The amount, method, etc.
Assets with available marketing materials, all with HTML code to embed on your website.
What is Good in this Program?
The company offers good commission rates;

30% of the subscription fee.

The commission is recurring with no payout limit.

ConvertKit is a great product with the real potential of good conversion rates.

Flexible payment options, you can get payments through Paypal or e payments.

You don't have to be a ConvertKit user to be an affiliate.

It provides a very simple and user-friendly dashboard that is easy to work with.
What is NOT so Good in this Program?
ConvertKit affiliate program, for some reason, isn't as elaborate as it could be. It didn't mention its affiliate program on its official site for a long time and has disclosed it just recently. Therefore, there is not a lot of information about the program available.

FAQs page is not detailed and doesn't address any queries.

Conversion is time-bound. Your link will pay you only if it is clicked within 60 days of being posted.

There is a minimum delay of 30 days for approval of pending commissions (to avoid refunds) and it can be pending up to 60 days.

There is no option of deep linking available.

There is no direct communication with the support team from the affiliate account.
Can You Make $1000 a month as ConvertKit Affiliate?
While ConvertKit is a great tool, its affiliate program, however, doesn't follow suit.
There is a potential for good conversion rate, but making $1000 a month is a tall ask. As it would take 115 (1k Subscribers) successful referrals to make 1000 bucks a month.
However, it is a good source for a small check of recurring amount, that can grow with effort and time.
Other articles related to Affiliate Marketing
Like what you see?
GRIN tech is available for work.
Hire Us