What is Fiverr?
Fiverr is an online market place, where the online freelancers (sellers) meet their potential clients (buyers).
The site takes its name from, English slang for a five-dollar bill. Essentially, every niche/service sold on Fiverr starts from the minimum 5 bucks. This doesn't mean sellers can't keep a higher price, but then there is competition with umpteen offers, for a cost as low as a "fiver" to attract buyers.
Services, called gigs on Fiverr, are diverse. From content writing to web designing and relationship gurus to psychological helpers, everything seems to be covered under the gigs on Fiverr. In short, it's a real mixed bag of services – but with an emphasis on services that help online businesses.
And yes, Fiverr does have an affiliate program.
Company's Profile
Website: Fiverr.com

Founded in: 2010

Founder: Shai Wininger and Micha Kaufman

Headquarters: Tel Aviv, Israel

Total Sellers: 5.5 M

Total Buyers: 0.83 M

Revenue in 2018: $75.5 M

Operates in 160 countries

A number of service categories: 200
Plans and Pricing
Selling price for a Gig starts from as low as 5 dollars and can go up to 10k for a custom offer by a PRO seller on Fiverr.
🤘 What if there is a better affiliate program?
What is Fiverr Affiliate Program?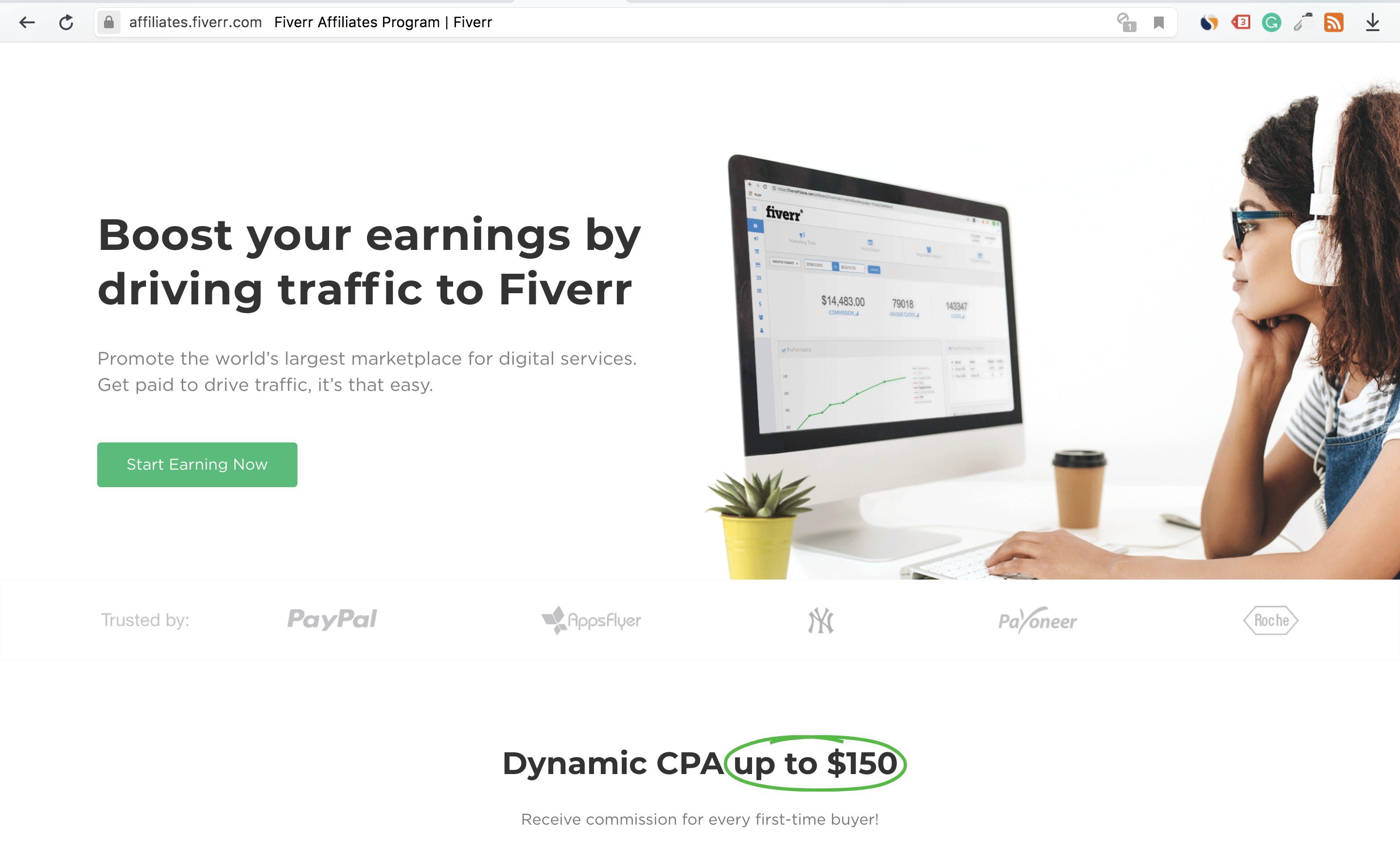 Firstly, for a layman, what is an affiliate program? Affiliate program also called an associate program, is an arrangement, where a website pays its affiliate websites for directing traffic towards the former. The affiliate sites, post links of the paying sites and get paid as per the agreed payment plan.
The Fiverr affiliate program, therefore, enables the affiliate to recommend services on Fiverr to the potential buyers and in turn receive a commission, when referral purchases a gig on Fiverr.
Fiverr Affiliate Link Tracking
Having signed up with Fiverr as an affiliate, their links can be added to your blog or website as and when relevant content is posted. As Fiverr affiliate, your links will be tracked and Fiverr would know when a customer reaches them through your website or blog. The amount paid to you depends on the rate specified by Fiverr as per various services.
Commission Rates on Fiverr
Fiverr is generous, when it comes to paying commission for referrals. The rate varies between a minimum $15 to a max of $150 for a pro plan purchase. Below are the rates as per the services on Fiverr.
✊ GRIN tech's program offers recurring commissions
Types of Fiverr Affiliate Programs
Direct. It is a self-hosted affiliate program that can be joined by signing up at the website directly.
Through a Hosting Network. Hosting networks, such as AWIN, also provide affiliate services. However, direct affiliation through the mother site is a more viable option. As it is free, and you get better support if you sign up directly with Fiverr.
Sub Affiliate Program. In this as an affiliate, you can refer other others to join Fiverr as sub-affiliates (sort of MLM marketing). This way, you will get 10% of every commission, that your referred affiliates make for themselves. And this is on a recurring basis.
How Slick is the Affiliate Service?
The Fiverr affiliate dashboard is easy to understand and is quite comprehensive. One of the easiest among all available affiliate programs in the market. It provides a fully functional affiliate marketing dashboard with the following information:
A complete track of all the clicks on your links and related conversions and sales.

A detailed report of all your earning mentioning, which of your links are converting better and which are rather dead.

Full details of the commission rates and percentages.

Then, there are some marketing tools, such as banners that you can add to your blog or website; a ready-made arrangement for a sponsored link.
What is Good in Fiverr Affiliate Program?
The flat-rate commissions are good, probably the best amongst all the affiliate programs.

There are a lot of services/niches and tons of gigs to choose from. Say, for instance, you have a blog related to marketing or travels or food, almost anything. So, there are numerous gigs that you can refer to and earn money, the moment a gig is purchased through your referral.

The commission is not related to the amount of purchase. Meaning thereby, you will get your full commission, even if your referral makes the lowest amount purchase of $5.

You don't have to be a Fiverr user to be an affiliate.

It provides a very simple and user-friendly dashboard that is easy to work with and manage the whole affiliate thing.

Last but not least, it has good blog resources. There are infographics and banners that you can add to your blog and they do come in handy.
What is NOT so Good in this Program?
Fiverr Affiliate Program has a CPA, (Cost-Per-Action) structure; you will be paid only once for a successful referral.

You can earn only if your referral is a new customer, for instance, someone goes to Fiverr via your link and makes a purchase, but the individual isn't new to Fiverr and has previously made purchases as well, you won't get paid.

If your referred gigs aren't good, the authority of your blog is called in to question. So, you must be very careful in choosing the gigs for referring.

Flat-rate commissions have a downside as well. No matter how big a purchase your referral makes, you get the same fixed commission.
Can You Make $1000 a month as Fiverr Affiliate?
A definite Yes, keeping in view the commission rate i.e. up to $150. So, if you have a blog or a website with good traffic already, referrals can earn you a good amount of money.
Other articles related to Affiliate Marketing
Like what you see?
GRIN tech is available for work.
Hire Us