What is Canva?
Canva is an online graphic design platform that creates beautiful designs, templates, and documents.
The company's graphic-design platform offers drag-and-drop feature and professional layouts to its users to help them create custom graphics through a vast collection of professionally-designed layouts and graphics. It allows users to create their own designs from scratch, for use in presentations, posters, infographics, social media, business cards, and much more.
Company's Profile
Website: 

canva.com

Founded in: 2012

Founder: Melanie Perkins

Headquarters: Sydney, Australia

Total Users/Customers: 15M

Revenue in 2018: $1B

The company operates in 190 countries
Plans & Pricing
Canva has an awesome free plan, which allows access to a rich repository of free designs and templates.
Other than that, they have two price plans; Canva for Work and Canva Enterprise. Canva for Work costs $12.95 per month (per user). The enterprise plan is custom-priced as it depends on the company's designing needs.
What is Canva Affiliate Program?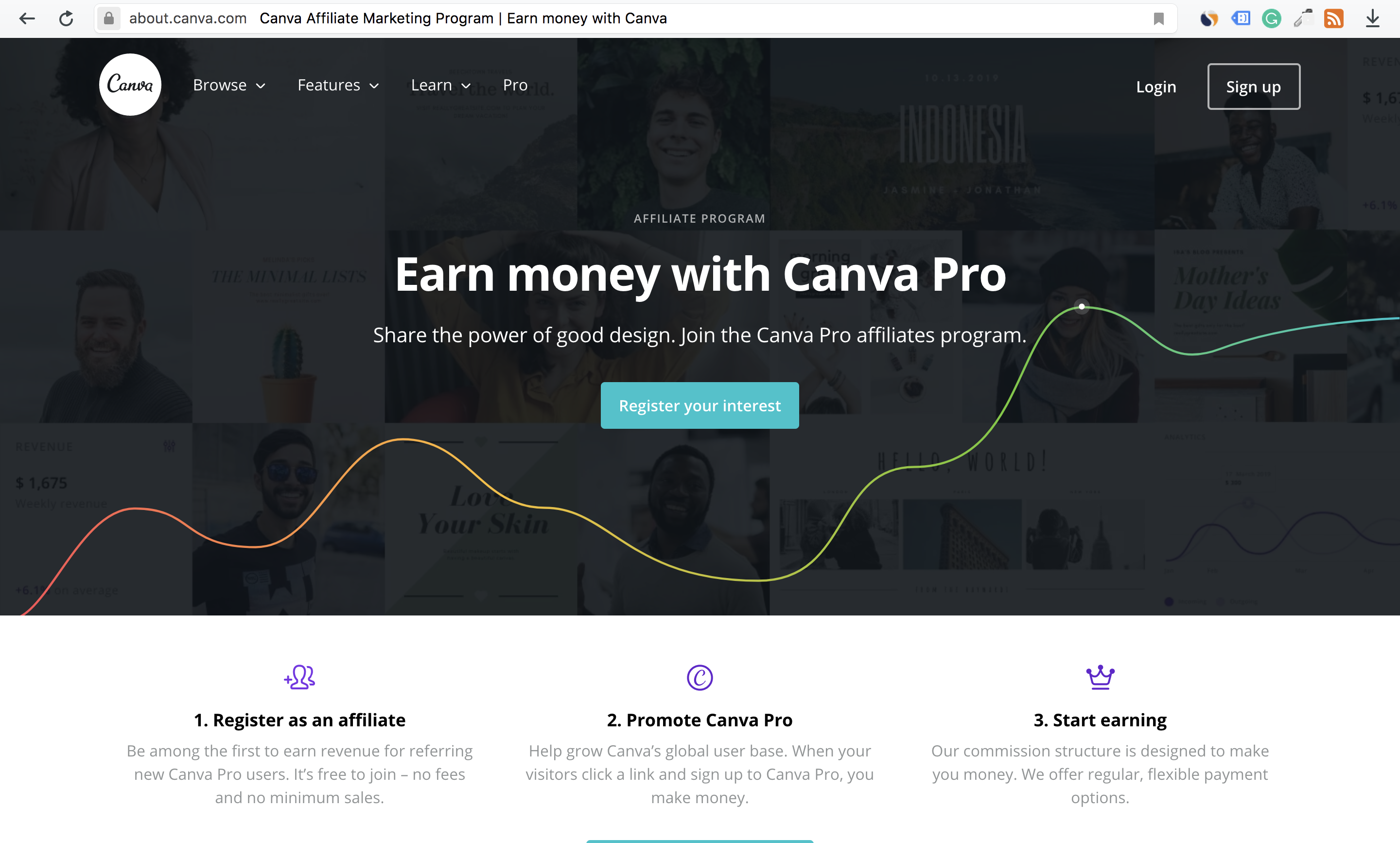 Firstly, for a layman, what is an affiliate program? Affiliate program also called an associate program, is an arrangement, where a website pays its affiliate websites for directing traffic towards the former. The affiliate sites, post links of the paying sites and get paid as per the agreed payment plan.
The Canva affiliate program, therefore, enables the affiliate to recommend services of Canva to the potential customers and in turn receive a commission when a referral makes a purchase.
🤘 What if there is a better affiliate program?
How Does Canva Affiliate Program Work?
Register as an Affiliate on Canva for free and with no minimum sales.

Promote Canva through your online platform and help grow the traffic on the Canva website.

When your visitors click a link and sign up to Canva Pro, you make money.
Canva Affiliate Link Tracking
Canva has started their affiliate program just recently. They allow the referrals through all possible ways online, that is, blogs, social media, emails paid ads, etc. So, having signed up with Canva as an affiliate, their links can be added to your blog or website as and when relevant content is posted. As an affiliate, your links will be tracked and Canva would know when a customer reaches them through your website or blog.
Canva affiliate program has a 30-day cookie-based tracking and payment is made within 30 days of the first click.
Commission Rates on Canva
Canva pays its affiliates $25 as commission for every purchase that is made by referral or when the referral signs up with Canva Pro.
✊ GRIN tech's program offers recurring commissions
Types of Affiliate Programs Available
Canva Affiliate Program is relatively novice. Presently, the company offers only a self-hosting affiliate program.
How Handy is the Affiliate Dashboard?
Canva Affiliate dashboard is simple and handy. It offers the following information/services:
A Dashboard that shows all the stats including earned and awaiting payments.
Stats with numbers of shares, clicks, referrals, revenue earned and commission details.
What are the Program Benefits?
Canva has a relatively good commission rate; $25 for every product purchased by the referral. 

A recurring income, if the referral purchases the Pro plan of Canva. There is no payout limit as well.

Canva is a great site with the real potential of good conversion rates.

Canva affiliate provides varsity of options for the promotion of their links. You can promote a link via your website or social media, paid ads emails, SMS etc.

Timely payments; you get paid within 30 days of the first click on your link.

Flexible payment options, you can get payments through Paypal or e payments.

A good customer support is available for the affiliates.
What are Program Drawbacks?
Canva affiliate program is new. There is not much information available online.

The website offers a substantially good free plan. Therefore, the potential of referral to buy Pro plan decreases correspondingly.
Can You Make $1000 a month as Canva Affiliate?
While Canva is a great app with good rates of commission for affiliates, it isn't really a money-making enterprise for affiliates.
The free plan offered by the company is good enough for most users. That mitigates the potential of a referral to make a purchase or buy a Pro plan.
While this is not a bad option to earn side money, the affiliate program at present doesn't hold much of the potential to allow a user to earn up to $1000 monthly.
Other articles related to Affiliate Marketing
Like what you see?
GRIN tech is available for work.
Hire Us