What is Leadpages?
Leadpages is a digital lead generation platform, used to create landing pages.
Equipped with a slick drag and drop editor, you can create landing pages in a short time and add things like products, webinars, and courses, etc. Besides, it is also used  to create signup forms, emails, unlimited alert bars and SMS campaigns. And this all comes with the luxury of free hosting on Leadpages domain. It also includes SEO capability, WordPress integration, A/B split testing and more.
Company's Profile
Website: Leadpages.com

Founded in: 2012

Founders: Simon Payne, Clay Collins, Tracy Simmons

Headquarters: Minneapolis, US

Total Customers: 46000

Revenue in 2018: $38.6M
Plans and Pricing
Leadpages pricing plans range from $15 to $48 monthly. Annual subscriptions offer huge discounts.
What is Leadpages Affiliate Program?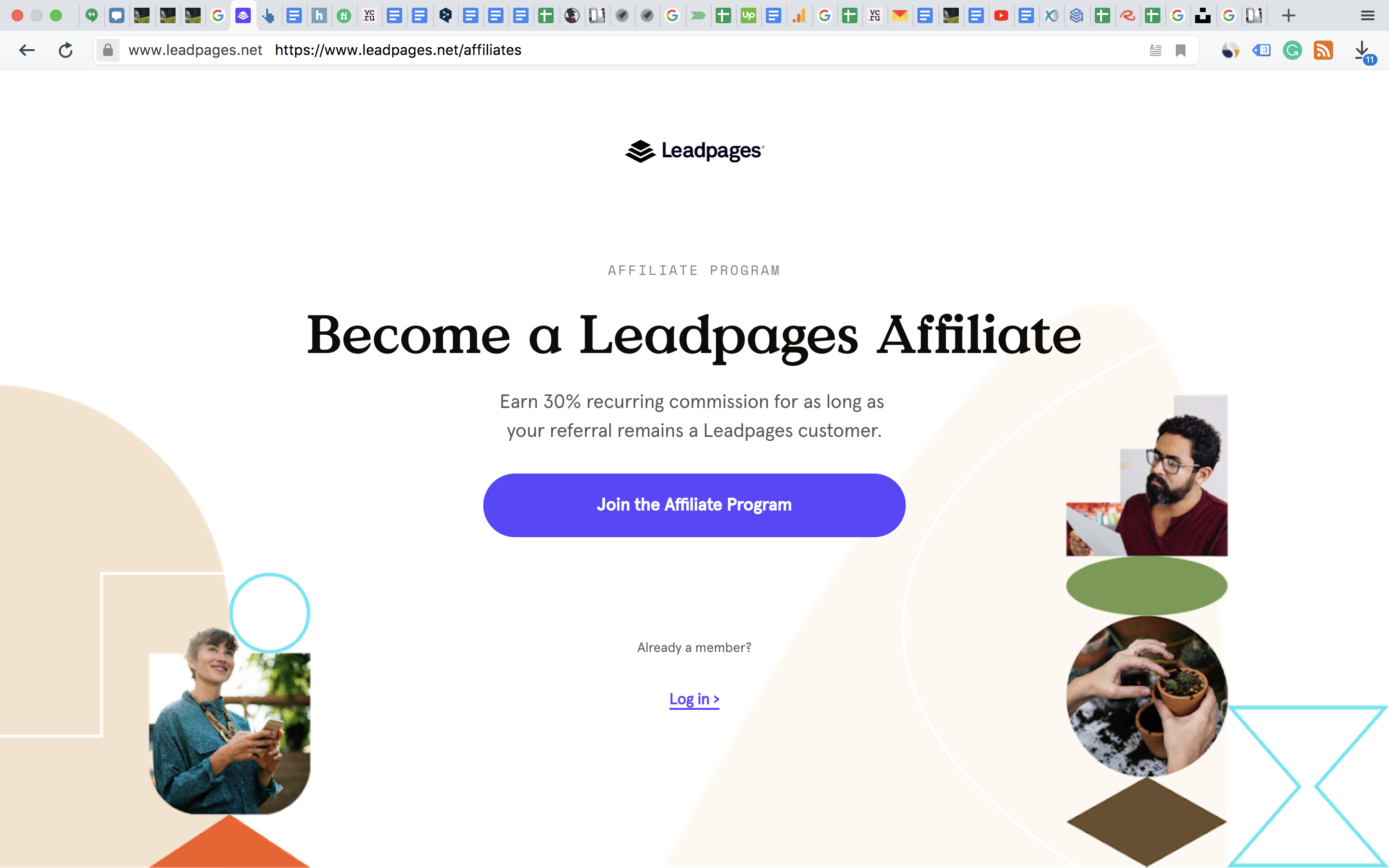 Firstly, for a layman, what is an affiliate program? Affiliate program also called an associate program, is an arrangement, where a website pays its affiliate websites for directing traffic towards the former. The affiliate sites, post links of the paying sites and get paid as per the agreed payment plan.
The Leadpages affiliate program, therefore, enables the affiliate to recommend services on Leadpages to the potential buyers and in turn receive a commission, when referral purchases any product on Leadpages.
🤘 What if there is a better affiliate program?
Types of Leadpages Affiliate Program
In past Leadpages did not offer access to their affiliate program to everyone. So, you had to be at least a Leadpages Pro Member to gain access to the Leadpages Affiliate Program. Later, the company decided to open the program for all its users. 
Leadpages manage their affiliate program through IMPACT, an affiliate links hosting platform.
Leadpages Affiliate Link Tracking
Having signed up with IMPACT as Leadpages affiliate, their links can be added to your blog or website as and when relevant content is posted. As Leadpages affiliate, your links will be tracked by the affiliate link hosting site and Leadpages would know when a customer reaches them through your website or blog. The amount of money you make depends upon the type of purchase your referral makes on the host site.
In addition, the link has a cookie life of 30 days. That means, if someone goes to Leadpages through an affiliate link on your blog after 30 days of its uploading, and makes a purchase, you won't get any commission.
Commission Rates on Leadpages
Leadpages is selective in choosing its affiliates. It is generous in its commission rates. They pay a recurring 30 % commission on every purchase made by your referral. The commission amount would be credited to you as long as, the referral sticks with his plans and pays his subscription.
Additionally, if your referral upgrades his plan, your commission would correspondingly increase as per the new plan. To give you an idea, you get $25 per month for a basic plan purchased by your referral (if billed annually).
The commission is paid after a locked 30-day time period, which includes a 14-day trial.
If you manage to sign-up 150 people to a webinar, you have a chance to co-host it with Leadpages experts and get a commission on every sale of that webinar.
Payouts are available in US dollars via Paypal only.
✊ This program offers recurring commissions
How Handy is the Leadpages Affiliate Dashboard?
The Leadpages affiliate dashboard is easy to understand and is quite comprehensive.
The company also provides a fully functional affiliate marketing dashboard with a complete track of all the clicks on your links and related conversions and sales. It also gives a detailed report of all details of the commission, rates, and percentages.
Marketing resources are nowhere to be found though. There aren't any marketing collateral available like banners.
What is Good in this Program?
A recurring 30% commission, with the possibility of renewing and upgrading is a big plus.

There is a 14-day product trial for the basic plan, which increases the chances of conversion, for a referral, who isn't decisive.

The low monthly cost for a product of great value increases the chances of conversion as well.

Commission on sale and chance of co-hosting a webinar, if you

 

manage to signup 150 people for it, is a good incentive. 

Good customer support.

Leadpages give you the option of deep linking.

It has good blog resources. There are info graphs and banners that you can add to your blog and they do come in very handy.
What is NOT so Good in this Program?
Despite a very well-developed affiliate program, there is not much information available. There exists confusion with regards to signing up as affiliate (e.g. do you need to be a pro member to be an affiliate or not?).

Unlike most other affiliate programs, you need to apply for Leadpages Affiliate Program and wait for the approval.

There is a threshold period of 30 days, which means, you will get a commission for a successful referral, only if the link is converted in to purchase within 30 days. 

Leadpages holds the initial commission payment for 45 days from the purchase date.
Can You Make $1000 a month as Leadpages Affiliate?
Leadpages offer a very good affiliate experience, but in comparison to its competitor ClickFunnels, they offer lesser commission and no incentives like a dream car.
Overall, it is a reasonably good program with decent money but if you want to make $1000 a month, Leadpages isn't your cup of tea.
Other articles related to Affiliate Marketing
Like what you see?
GRIN tech is available for work.
Hire Us