What is Namecheap?
Namecheap is a web hosting and domain name registrar company. They are ICANN accredited domain names registrar and also sell domain names that are hosted by third parties.
Company's Profile
Website: namecheap.com

Founded in 2000

Founder: Richard Kirkendall

Headquarters" Los Angeles, California

Total Customers: 2M

Total Domains Registered: 11 M

Revenue in 2018: $109M
What is Namecheap's Affiliate Program?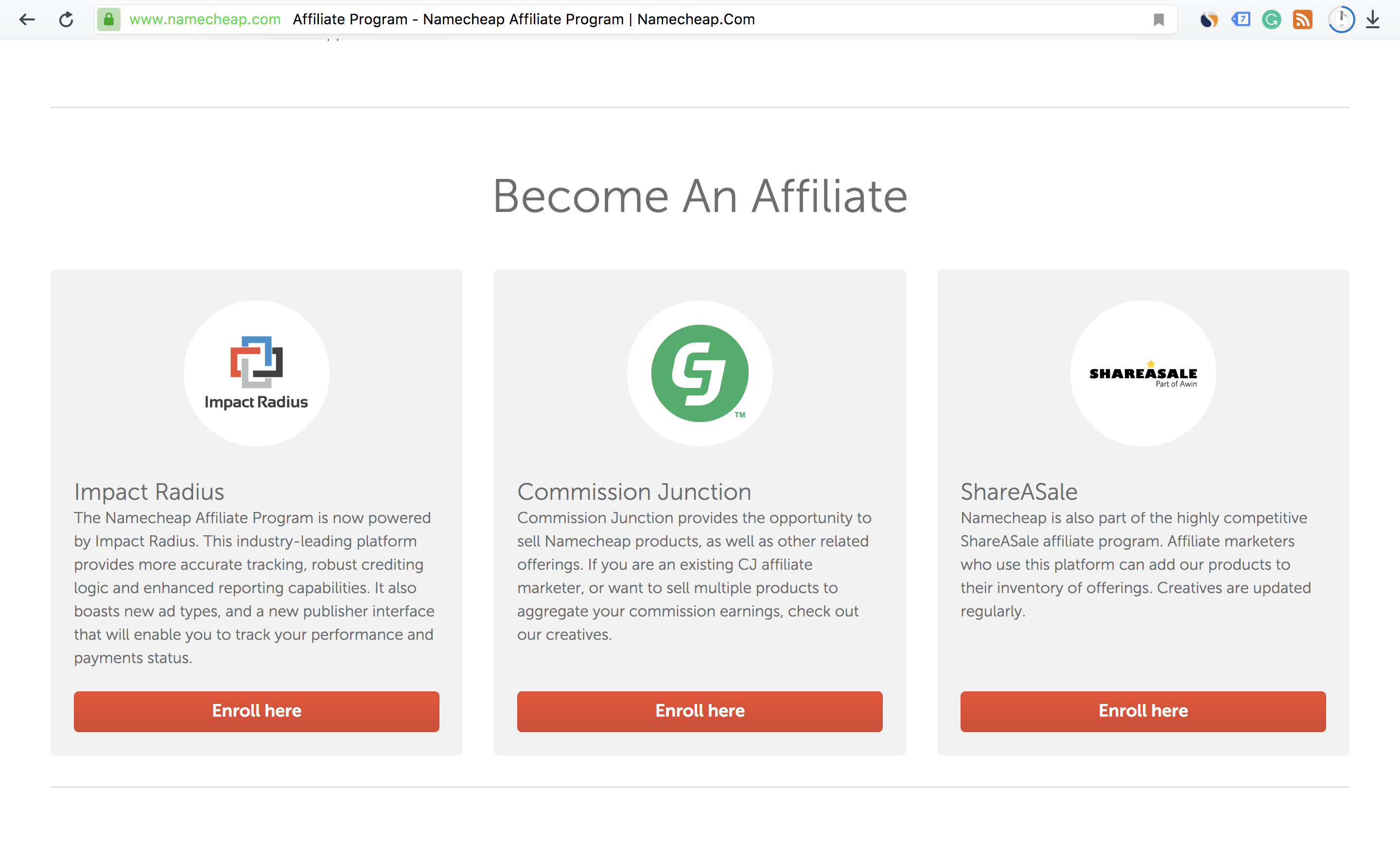 Firstly, for a layman, what is an affiliate program? Affiliate program also called an associate program, is an arrangement, where a website pays its affiliate websites for directing traffic towards the former. The affiliate sites, post links of the paying sites and get paid as per the agreed payment plan.
The Namecheap affiliate program, therefore, enables the affiliate to recommend services on Namecheap to the potential buyers and in turn receive a commission when referral purchases any product on Namecheap.
🤘 What if there is a better affiliate program?
Types of Namecheap's Affiliate Programs
The Namecheap's affiliate program is managed through Commission Junction (CJ), Impact Radius and ShareASale.
You need to sign up with either of these platforms to get started with the Namecheap's affiliate program. The signing up is free and joining Namecheap as an affiliate doesn't cost anything.
Namecheap Affiliate Link Tracking
Having signed up as Namecheap affiliate, their links can be added to your blog or website as and when relevant content is posted. As Namecheap affiliate, your links will be tracked by the affiliate link hosting site and Namecheap would know when, a customer reaches them through your website or blog.
CJ has developed a cookie-less tracking solution, which allows them to overcome obstacles like cookie blocking and cookie loss, including user-deleted cookies. Tracking is based on the event ID parameter in each affiliate link. This allows them to track all click and transaction info and credit the right affiliate. Links are tracked even for in-app transactions. So, it is quite a foolproof system, meaning thereby, your commission will find its way to you no matter what.
But remember, Namecheap's affiliate cookie's life span is 30 days. Which means, any user that uses your link to sign up or visit Namecheap must subscribe/buy a service within 30 days after being referred through your link, otherwise, you don't get any commission.
Commission Rates on Namecheap
Namecheap offers a commission rate between 20 to 35% on various products. It must be noted here that, commissions are offered as a one-time payment and are not recurrent.
✊ This program offers recurring commissions
How Slick is the Affiliate Service?
The Namecheap affiliate dashboard is easy to understand and is quite comprehensive. They have a rich repository of marketing collateral available, such as banners, ads formats, and pictures.
Namecheap also provides a complete track of all the clicks on your links and related conversions and sales. It also gives a detailed report of all the commissions, rates and percentages.
What is Good in this Program?
A varying percentage of commission is offered on almost all the products. This increases the chances of conversion.

Being a second-biggest company in web hosting and domain name provision, Namecheap has substantially high sales and corresponding conversion rates.

There are a number of products that company is offering, so, there is a range of niche to choose from, for affiliate link posting.

It provides a very simple and user-friendly dashboard that is easy to work with and manage the whole affiliate thing.

There are multiple options to get paid.

Namecheap also give you the option of deep linking.

Last but not the least, it has good blog resources. There are info graphs and banners that you can add to your blog and they do come in very handy.
What is NOT so Good in this Program?
Despite a very well-developed affiliate program, there is not much of information available on Namecheap's affiliate program.

You need to apply for Namecheap's Affiliate Program and wait for the approval.

There is a cookie life span of 30 days for affiliate links. That means you will get commission only if your referral makes a purchase within 30 days of being referred through your affiliate link.

Commission is not recurrent, unlike many other affiliate programs, therefore, making a steady income through this program is less likely.
Can You Make $1000 a month as Namecheap Affiliate?
Despite high sales and conversion rate, non-availability of recurrent commission and a mere 30 days cookie period makes earning a 1000 bucks from Namecheap Affiliate Program is highly improbable.
Other articles related to Affiliate Marketing
Like what you see?
GRIN tech is available for work.
Hire Us