How media outreach solution works & pricing
We offer genuine outreach to media (i.e., no PBNs, spam websites or anything from the black hat world). Service is fully managed by the Launcher team, on demand – and payment is result based. A few highlights:
Costs per contact 5x times below the market average, which is why we can offer such competitive pricing.

Campaign setup takes 1 to 5 days (i.e., list building and contact data enrichment). Then we can send about 240 emails per day (we have an algorithm imitating a human, so no work on weekends, alas).
Let's start with a pilot campaign (delivers five publications). Payment is only result-based. So, depending on your requirements, the price is between $50 and $160 per link. Is it a good number? Well, Ahrefs claims that the average cost of buying a link is $361 (Source: https://ahrefs.com/blog/buy-backlinks/) – so, as we accumulate more case studies and connections in niches outside the tech, the price will increase.
✍The outreach we are offering, in a nutshell, works like this:
We will talk over your project details and objectives.

We will check if there are any established connections from past campaigns to pitch straight away.

Then, we will prepare a list of relevant websites (search criteria might include: domain authority, amount of live traffic, location\region, type of decision maker, etc.).

Then, we will figure out who the decision makers are and will contact them. We do follow-ups as well, including phone calls for engaged leads (usually, nobody answers the first email, but starting from a second follow-up, people realize it's not a spammy email blast). For every positive response we pitch a post title and outline, get it approved, written (either by you or my in-house team) and published. We'll carry the project to the result.
Here is an example of a campaign Trello board so you can see what the results and workflow are like.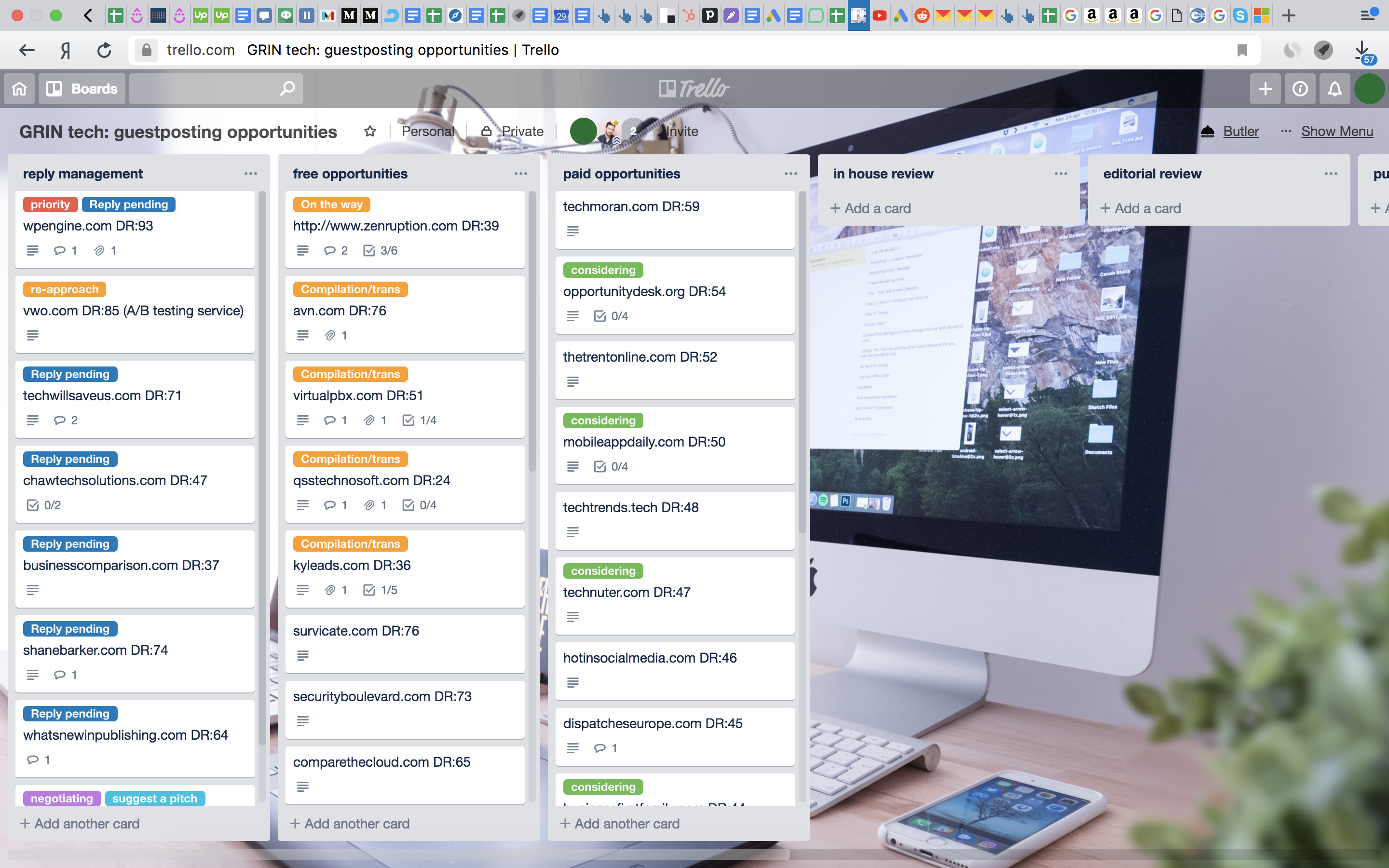 ✌Do you like this plan so far?
Let's talk through details. I'll be happy to answer your questions and adjust the plan/quote based on the details you provide.
Or you can answer a few questions, and I will come back with a quote straight away
Done-for-you
Self-service