Overview
Creativity Inc.: Overcoming the Unseen Forces That Stand in the Way of True Inspiration is a book about famous Pixar studio. The studio that gave birth to animation masterpieces such as "Toy Story," "Ratatouille," "Frozen" and "Up" beloved by all viewers regardless of age.
Ed Catmull, one of the authors and Pixar's CEO stood at the origins of the studio with his team of creative enthusiasts and like-minded companions.
Those in charge of creative teams should lay their hands on this book (or at least its summary). Creativity Inc. is also strongly recommended to directors, artists, animators, scriptwriters and anybody who takes a genuine interest in the history of cinematography.
As a viewer and appreciator, you are sure to find a great deal of pleasure in reading everything about the process of creation of their features and shorts.
The book would also be interesting if you admire Steve Jobs and want to know what an important part he took in those creations. Catmull refers to Jobs with a great deal of respect, admiration, and gratefulness. Well, the book is dedicated to Steve Jobs.
+ Pros
Too many to list. It is a brilliant, insightful and well-written book that covers one noteworthy topic.
− Cons
Occasional misprints.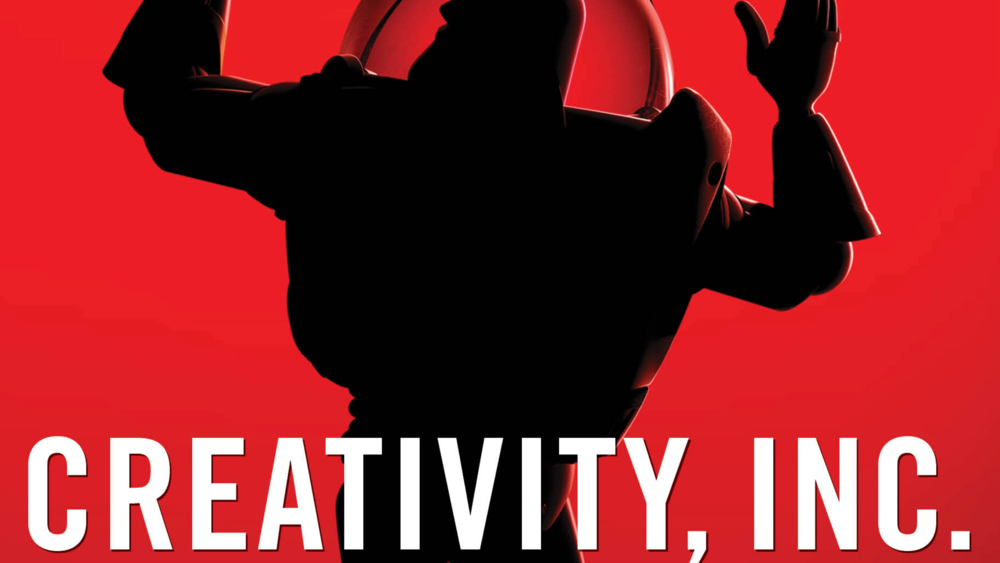 "Creativity Inc." manages to piece multiple genres together. It is a memoir rich with insider information, a guide to management, an insight into a history of the creation of animation films and partially a philosophical tract.
It is not a secret that the vast majority of creative people have their rhythm and pace of work. They conduct under their own rules and can be challenging to organize. You know, inspiration and regulations do not mix up that well. People in charge of Pixar wanted to find a perfect balance between creative and production processes. Their goal was to create great films and tell great stories to the world. They challenged themselves with two conditions to set: let's not choke the creative spirit of our studio with discipline and try not to drown in a swamp of original experiments. That was a tricky thing to pull off, to say the least.
The book reveals a story about extraordinary creative energy flowing all through the studio, where every single employee had a chance to evolve as a creative human being.  From cleaning worker to lighting technician — everyone could take free courses on drawing, painting, sculpture, CGI animation and eventually become a part of the creative team. That brings a sense of unity and purpose for everyone.
Why have Pixar become a unique studio? Ed Catmull has a couple of ideas to share.
Summary
Idea № 1. Hire outstanding and extraordinary specialists. Hire even those more talented than you.
Catmull remembers how he hired a person much more competent than him. It was at dawn of his animation career, and he was worrying that he might lose his position in the company. But tasks at hand required the best of the best to stay productive and successful. Ed Catmull took a risk and was right to do so. Always admit the professional qualities of an individual. Catmull tells that George Lucas, the creator of "Star Wars," among a dozen candidates, chose him to work on CGI effects for the epic saga. Why? During the interview, Catmull was asked a question: who of the leading specialists in his field can he name? Catmull named a bunch of people. Those people were in the mix with Ed Catmull to claim the position of CGI effects specialist, and none of them mentioned the names of their potential competitors. Catmull's sincerity, honesty and the ability to recognize the competence of others bought him a ticket to work with Lucas on "Star Wars." George Lucas not only hired a CGI specialist but helped a studio called Pixar to be born.
Idea № 2. A good movie must have a good story. Put every piece of soul and skill you possess in it.
Pixar hasn't gained popularity and recognition overnight. After their first success with "Star Wars," the company was bought by Steve Jobs. In the beginning, Pixar tried to deal with equipment and software as Silicon Graphic did. Business went stale, and that was when Catmull, Jobs, and animator John Lasseter cooperated with Disney and decided to concentrate on creative aspects and start producing animation films. That is how "Toy Story" was born and where the road to success began.
Catmull gives a complete story of its creation. Producer at Disney didn't accept Woody. They thought he was too good-natured and sincere. As a consequence, the script has been rewritten a dozen times until the production was temporarily shut down. People at Pixar then decided to listen to their inner voice and made Woody who he was from the beginning — a good, nice guy — and "Toy Story" turned out to be a huge success.
Idea № 3. Talented people must become a real team for a movie to succeed
It is essential to find and hire talented people and unite them under a flag of a common cause. Otherwise, they're just a team of mediocre individuals. It is vital to have an understanding inside the organization, which only sounds easy to achieve.
The great example Catmull makes is work on the "Toy Story" sequel.
Pixar invited animators from the side to work on the sequel, while the core team concentrated on the production of "A Bug's Life." All the animators were talented and highly professional but with barely any directing experience. Essential storylines were ready and written, so Lasseter and Catmull were confident about the rest of the job done with no problems. One of the first mottos at Pixar was "trust the process," bearing the idea that if you have a solid story the rest of the work is bound to go its natural way effortlessly.
Catmull was to find out that it is people who are a priority, not processes. A year into production it developed that new directors/animators were not working as a team, but acted solely on their own. First draft clips showed to be mediocre quite a time ago, but Ed Catmull was convinced that it is always like that with first drafts. But later drafts were hardly any better and even though Disney was satisfied Pixar couldn't afford a b-grade animation film and had to replace newbie directors and rework everything themselves in a concise amount of time.
Idea № 4. Creative cooperation is impossible without sincerity and trust
Ed Catmull developed a particular type of meetings and called it Braintrust. He wanted every participant to be able to state his or her opinion on a specific character, script, work process and much more so that everyone in the team would have a clear understanding and panoramic view of the whole production process. That is because each employee does a specific job and sees the overall process from a limited angle. Some members of the teamwork effortlessly, fast, while some get stuck and confused and left alone with little to no understanding of what is the problem, how to solve it and even where exactly to look for it in the first place.
The idea of Braintrust emerged during the production of "Toy Story 2", which eventually Pixar had to rework almost from scratch. Catmull had a pursuit of eliminating the fear of failure and incompetence during these meetings. He made the film the center of discussions and made sure to eradicate personal remarks. There is no right or wrong, just trial, and error. That helped the team of creative individuals trust each other and work without fear. Braintrust helped to make "Toy Story 2" a story for the audience rather than its authors like it was in the beginning. Critical remark: with all the benevolence of those discussions people must be ready to handle the truth.
Idea № 5. Failure is always a chance to grow
Ed Catmull sees nothing tragic about failure. Failure is not evil but an opportunity to grow.
Creative people are sensitive to failures, but failures are the only way to grow and learn.
Catmull thinks that the pain of failure veils the golden shine of experience we get through it. It deceives us to devalue that experience. An aspiration to avoid failure only leads to inconfidence and dramatically slows you down on your way to success. Leaders who are afraid of failures lose everything. Every wrong step you take inevitably leads to a better understanding of your surroundings and helps predict right move from wrong in the future. Any idea that doesn't fit in the film should not be left behind. It can bear fruit later and fit into future projects.
Catmull brings "Monsters Inc." as an example of a wrong path taken in the beginning. At first, it was a story about a 30-year-old accountant, who sees ghosts. Later he turns into a little girl named Mary. A bit later into a little boy, then a seven-year-old girl Boo and finally a toddler. The script as it is known today came to fruition over a year of work. Stick to the fundamental idea behind your story and experiment. Remember, trial and error are perfectly natural.
Idea № 6. Individual opinions must not stand in the way of common cause
Once a company grows past a certain point it loses its flexibility. Having more creators leads to more opinions. However, there are methods at Pixar to avoid collisions and concentrate on productivity.
During a feature production, daily meetings held at Pixar where participants listen to each other's opinions, suggestions and find the best solutions.
One of the methods is investigation and research. To recreate an environment for "Ratatouille," which takes place in France where its primary character rat Remi dreams of becoming a chef, a team from Pixar took a trip to Paris. They spent two weeks eating out at the best restaurants in Paris and interviewing chefs. It sounds more like a trip to paradise, but it was but a fraction of their French adventures. The team also explored Paris sewers inhabited by legions of rats. That was very vital for an accurate and sincere depiction of the world in the animation film.
Next method. The power of restriction. Working on "Monsters Inc." artists used to spend too much time detailing covers of CD boxes in the background, which can only be seen for a couple of seconds. Don't waste time on details a viewer won't notice anyway. Once you get too enthusiastic, it's probably time to limit yourself. Chasing a goal of creating a high-quality product be careful not to spend excessive amounts of finances and your employees' energy. At Pixar, there is a particular person whose job is to make the company's requests and demands reasonable and balanced.
Merging tech and art is vital and implies a close collaboration of an engineer and an animation artist.
Catmull uses the method of short experiments. He highlights the importance of animation shorts in Pixar. Working on these shorts bonds the team, helps sharpen their skills and pushes the limits of creativity, while the audience is grateful to see the result as a complimentary piece of art before feature release.
The visionary method helps to share a vision among every person in the company. Everyone in Pixar can attend educational courses on animation software, sculpture, drawing, and painting to understand what everyone is doing and working on during feature production better.
The method of dissection helps to be efficient. People at Pixar get together to discuss every step made, what failed, what not and why. The educational continuity method helps employees continuously evolve. They can improve their primary skills, acquire new ones and sustain the health of the body and mind. Acting classes, basics of design, musical classes, yoga, meditation and more are available at Pixar for its employees. It also helps in establishing strong relations within the company because that's where even the CEO can find himself in an uncomfortable position of a clumsy newbie.
Summary of Creativity Inc summary
Pretty much all book summaries have this bold statement at the end – I'd not recommend reading the book's full copy. Well, reading through a 2000 words piece is not that time consuming, BUT if it still makes you wonder – check out a full version.
As always, I'd recommend comparing the ideas and action plan insights density with other business books we reviewed:
Like what you see?
GRIN tech is available for work.
Hire Us