Never Eat Alone by Keith Ferrazzi, summary & review
Never eat alone summary reveals that few people know how to do networking and unfold key ideas which Keith Ferrazzi delivers in his book.
'Never Eat Alone by Keith Ferrazzi, summary & review'
Never Eat Alone by Keith Ferrazzi, summary & review
Review
Never Eat Alone by Keith Ferrazzi is a book on secrets of networking, which became an international bestseller and gained tons of positive reviews from both critics and readers. GoodReads gave it over 15000 good ratings and Amazon holds over 400 enraptured reviews.
Everything you do can be a little harder if you don't have the right people around. You're looking for a job but can't get a recommendation, you need to visit a qualified doctor, but don't know one and also know nobody who can recommend one.
In "Never Eat Alone" Ferrazzi reveals that few people know how when it comes to networking.
Experienced networkers and negotiators will hardly be stunned by Ferrazzi's book, but it will serve as an excellent introduction for those new to the topic .
Keith Ferrazzi insists that real networkers are not exquisite manipulators who only use people to benefit and profit. Networkers listen to people, sincerely and regularly take interest in their ongoings, their business and help them solve problems. Networkers know that the strongest and most reliable connections are built upon trust and trust is not gained through manipulations.
Never mix work and personal life. Keith Ferrazzi takes a look on this statement to figure out if it's true. He also doubts that emotional restrictions should be present. Ferrazzi suggests you need to share your passions, express what you like and don't and establish personal relations with business partners. That will make networking a very enjoyable process and eventually a part of your lifestyle.
+ Pros
Actual advices, interesting examples, simple and intuitive delivery. If you think that networking is not worth it, Keith Ferrazzi will change your mind.
− Cons
Occasional repetition of ideas and lack of information for experienced networkers and negotiators.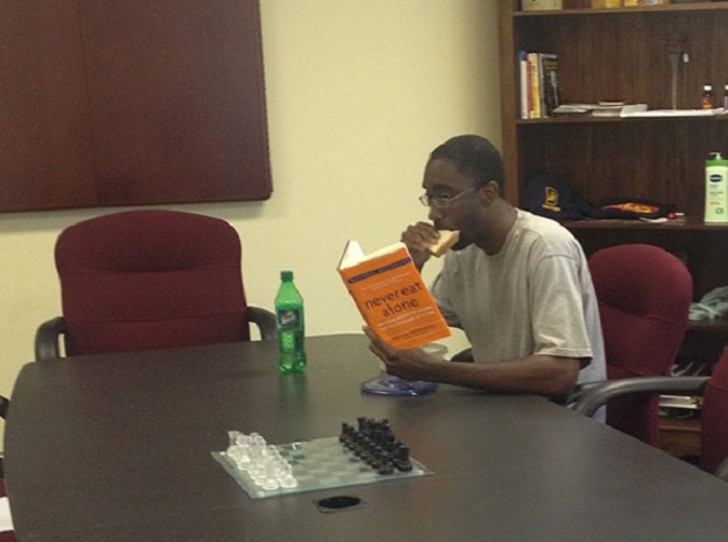 Summary
So, how real networkers work? Here are a couple of ideas from the author.
Idea № 1. Make it clear
Know your mission, know your goals. It is a basis for your actions. Even if you realise the importance of networking, you can't start before you define your goals. Lean to goals that will bring you joy and satisfaction. Stick to what represents your dreams or helps you achieve it. It will now be easier to stick to the plan and establish relations.
Analyze your strengths and weaknesses. Do it all by yourself or with a little help from your friends and relatives. Either way, it will help you define vector of your work. Know your mission.
Your goals must be clear and achievable but remain ambitious and far-reaching. Write your goals down and try to estimate a completion period for each. This is an excellent way to visualize your dream.
Once you define your mission and plan your actions you are going to need people. Discuss your plans with friends, relatives and those you are close with. They can not only support you but also provide valuable feedback for your actions.
If you know your destination it won't be difficult to find all the right people to help you get there.
Idea № 2. Be generous and build relations in advance
Keith Ferrazzi indicates generosity as a cornerstone of networking.
Sharing your experience, offering your time or services are all acts of generosity that will eventually bear fruit. So don't count your good deeds and especially don't keep your contacts to yourself.
Cooperation is the opposite of competition, but it perfectly suits modern environment according to Ferrazzi.
Keith Ferrazzi strongly recommends not to save networking for later. People are more eager to help those they know. That's why you need to think a few steps ahead and establish relations before you need something.
Idea № 3. How to overcome fear and anxiety when facing new frontiers
Fear and anxiety are completely natural parts of our behaviour. And it's perfectly fine experience it before meeting or calling somebody new. Even someone as experienced as Ferrazzi is not a stranger to discomfort and anxiety when dealing with new people.
Don't get fixated on failures and learn how to overcome fear. Fear is a natural feeling but to succeed you need to ignore it. Keep it in mind, practice and you'll get better eventually. As a matter of practice you can challenge yourself to make a new acquaintance each week. You can start conversations any place you go, just put a little effort in it. Visit social places like museums, concert halls, shopping malls, bars, restaurants.  
Concentrating on the worst outcome will leave you frustrated. Sometimes it's good to think about what it feels like to stay idle and do nothing at all to get moving.
Finding a role model, an example of behaviour can be extremely efficient to overcome fear. People usually choose friends who accommodate their behaviour pattern and are similar. Instead try to surround yourself with proactive and confident people. Try to observe them and maybe even ask what helps them overcome anxiety and fear.
If you have a hobby try to join a club of interest. Try to become an active member of the club and take a leading position. Don't be shy, take an oratory course. Eloquence is one of the most important skills in networker's set.
Preparation is king. Keith Ferrazzi takes preparation process very seriously. Be prepared for every meeting, don't take any chances. It is your guaranteed confidence and expertise on every subject, that will certainly appeal to your partner.
Idea № 4. Turning cold calls into warm calls
Cold phone calls can leave even the most experienced negotiators in deep stupor. Is there a way to make calls to strangers more enjoyable?
Let's be honest, there's no inspiration to call a stranger on the phone, so don't wait and just do it.
To break through mistrust on the other side of the line it might be useful to take recommendations from common acquaintances and partners. By simply mentioning someone you both know can pull you out of the hole of mistrust.
Have a clear understanding of individual's problems and explain how you can be useful within only 30 seconds. If successful, make an appointment.
Act like you are a success. Stay persistent and polite, stay calm no matter what happens, never show anxiety even if a person ignores you. Lay your ambitions and ego aside for a while. Yes, it's not easy to make a contact with someone who's less interested in it than you.
To make contact with top people in organisations, you may have to encounter some obstacles. Secretaries. The worst you can do in networking is spoil your relations with secretaries. You have no idea how important secretaries are and how influential they can be. Make secretary your ally. Be grateful in every way possible.
Idea № 5. Expand your network using weak ties
Keith Ferrazzi describes the effect, which is called "the strength of weak ties". Each successful step like a promotion at work or a new job usually comes from people who we consider to be just acquaintances. Those who, unlike our friends and family, represent weak ties. Close people are usually similar to us in terms of interests and passions while weak-ties-individuals come from another world and possess a lot of new and useful information.
Vanity fair moment I found a paper from my Bachelor degree back in 2013. "The purpose of this paper is to discuss personal networks, social capital and the means of creating and maintaining them." Here is a PDF..
Meeting more and more people is only one way for network expansion. Merging networks is another one. This is possible when you establish relations with people of either great influence or just with a big and potent network of acquaintances. Politicians, CEOs, journalists, doctors, PR specialists, celebrities.
Based on his experience Ferrazzi recommends to be modest in conversations with influential people. Don't be subservient, don't give hints on your hidden motives and act naturally like you're equals.
You main goal is to earn trust.
A lot of people avoid social events because they can't conduct a conversation. Thinking there's nothing they can do, they give up  and lose a lot of opportunities for personal growth and career advancement.
According to Keith Ferrazzi, the art of small talk is not an inborn talent. It's a skill and you should practice it to perfection.
Small talk is usually meaningless but Ferrazzi recommends to be more open, sincere and dare to come up with more complicated and acute topics. This will help raise the emotional tone and level of interest and sincerity in the conversation.
Idea № 6. Don't go off the radar
Successful networkers always remind about themselves. Your networking efforts are of value, so don't let people forget you.
In this day and age don't waste time. Remind about yourself wherever you are. On a plane, in the restaurant, on your way to work — it doesn't matter. Smartphones allow for that.
After you make new acquaintance make sure to get in touch with this person for the next two or three days. It will help solidify your character in memory of an individual.
Remind about yourself regularly and use different channels — email, phone calls, instant messages, social media. Do it once a month. Even if your connections are tight with someone and you've been friends for decades don't hesitate to pop up at least two-three times a year.
To subtly remind about yourself and not be annoying, share links to articles and events that people might be interested in. The best way is to get to know what an individual is passionate about, what his or her line of work is.
Idea № 7. Take interest instead of trying to interest
Keith Ferrazzi sees successful networkers as a combination of spiritual tutor, psychotherapist and altruist. People long for recognition and networkers understand that, so they listen to people, take interest in their personalities and are ready to share their knowledge.
The best way to encourage someone do something? Acknowledge the importance of an individual and his interests.
You establish a strong emotional connection with people every time you help them solve a problem or make a dream come true. Especially so with the most important areas of individual's life: health, welfare and kids. These areas hold keys to trust and even loyalty.
Keith Ferrazzi recommends to use the system of social arbitration to develop relations. The idea is to use your connections to help other people or to share useful information with them. The more you give, the more you get.
Idea № 8. Learn how to be a companion
In the world of networking if you have nothing to say you're a sinking ship. You have to be interesting to other people. If you're struggling in the art of conversation, don't worry. There are a couple of tricks to improve yourself.
Never stop accumulating knowledge and share it with others. Memorize and write down interesting stories, work on your positions and opinions on certain subjects, think through arguments, learn to present facts. Emotions trigger actions so always present facts with emotions. Avoid bleak educational conversations and work on the depth of your knowledge. Venture where most people don't.
Choose an area to become expert at, even if it's not connected to your line of work. Stay up to date on the subject, follow trends, pay attention to and learn from the best in the field. Improve your strengths and don't get fixated on weaknesses. Don't get too desperate when things go wrong. It happens, so try to stay ready and never give up.
Become your own ad agent if you don't want to go unnoticed. That's one great advice from Keith Ferrazzi. Say goodbye to shyness and dare to stand out among your colleagues and friends. Create your own brand. Add value to everything you do and always do more, better and brighter. Constantly look for new ways to evolve, to perfect whatever it is you do. Write articles, write short notes, share it all with people around you — at work, at home and on the net. If necessary establish a few contacts with journalists from your field. Dare to take part in conferences, give speeches or even organise your own conference.
But be careful not to cross the line. Persistence is a good quality, unlike pushiness. Respect people's interests and know when to stop. Do not display dominance. Be modest, decent and respect people who help you on your way.
Improve your appearance if necessary. According to numerous studies and researches we are mostly perceived based on how we look and not what we say.
Keith Ferrazzi strongly states that no one succeeds on his own. If you meet a person who can become a good mentor for you, make every single effort possible to turn your interaction into a source of useful knowledge and experience. Be respectful, listen, ask questions and be yourself. There's no need to be subservient.
Summary of Never eat alone summary
I'd not recommend to read its full copy. Ideas sound quite vague. On the other hand the book is somewhat well recognised for the topic of networking, huh?
By the way, Keith Ferrazzi has a cool website. Especially compared to other authors' whose books we reviewed: