ZAP-Hosting Editorial Review & Aggregated Reddit Reviews
The gaming industry is on the rise, and with all this popularity comes the need to have their game servers, ZAP-hosting does precisely that.
ZAP-hosting has found its niche. But are the company's clients just one click away from the excitement, and are their services worth your money?
We check this out for durability; here is our review of ZAP-Hosting.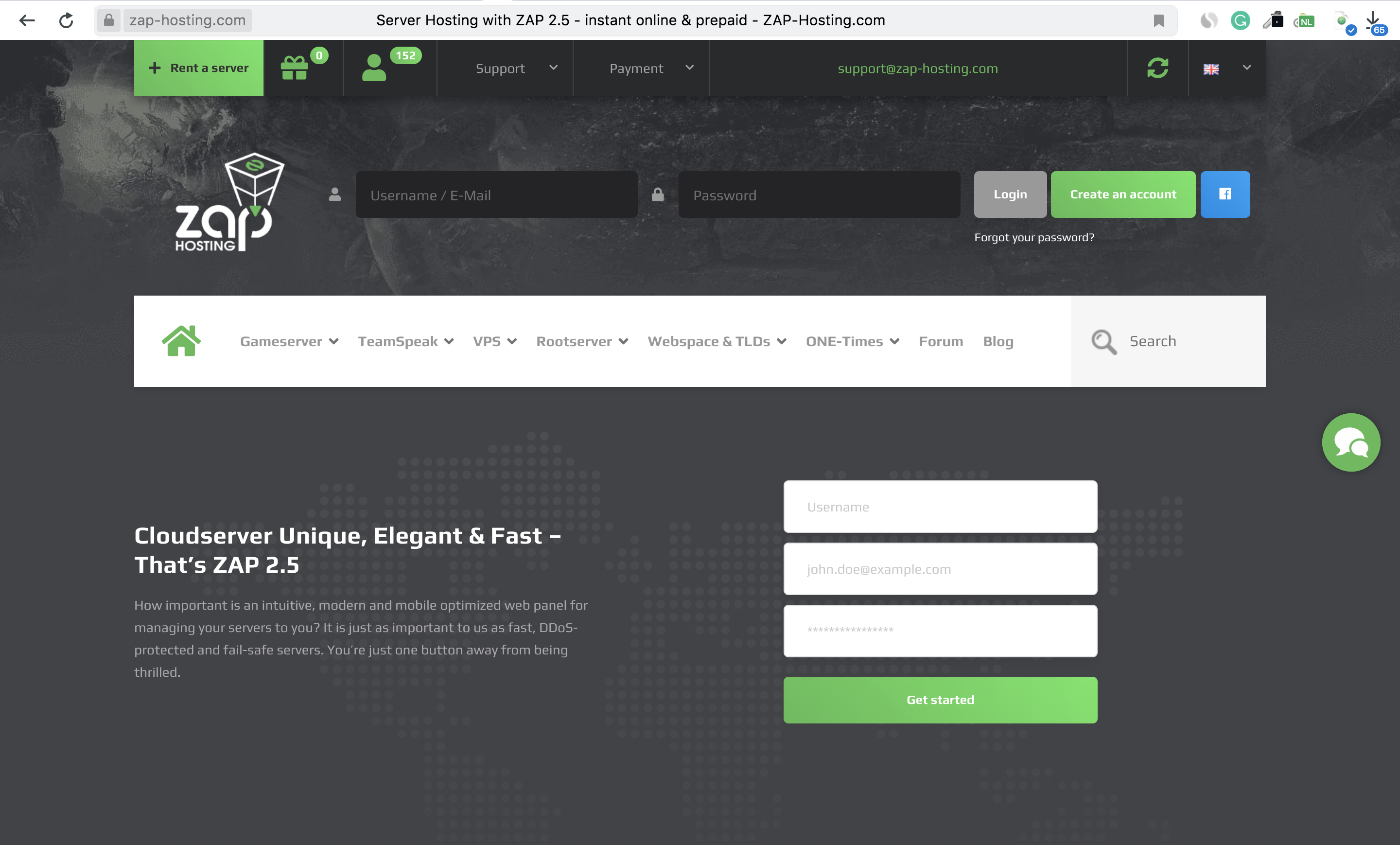 What is ZAP-Hosting?
Founded in 2010, ZAP-Hosting was created with the vision of hosting a game server. Thanks to a wide range of services, ZAP-Hosting seems to offer something for every gamer.
It covers game servers, TeamSpeak servers, VPS (Virtual Private Servers), and Root servers.
ZAP-Hosting Pricing
Pricing is a little bit more complicated because ZAP-Hosting does not offer any specific plans to choose from. 
That leaves everything to your discretion. Therefore, you can create the server you need. The price starts at $3 per month and can reach up to $8000 per month.
After you choose the game you want, you will be asked to configure your server. You can change the amount of RAM you need, which game server slots your server has, as well as change the CPU and host server. You can get up to 16GB of RAM and up to 500 slots for game servers.
The server location also affects the price you pay. You have a choice of 7 different locations here. The cheapest is Frankfurt, which adds 0% to the monthly cost, whereas Sao Paulo in Brazil adds 100%.
With this kind of price difference, you should think about the location of your server before you buy hosting here.
There is another unique option that particularly attracted our attention – ZAP-Hosting also offers what it is called "ZAP ONE-Times."
It is a lifetime membership in certain products that work on a once-off payment basis.
As for the regular game servers (non-life subscriptions) for which you pay monthly, the choice in the offer is slightly different.
However, perhaps the biggest highlight of regular monthly game servers is that ZAP-Hosting allows you to switch between any games at any time, without any additional costs.
So don't be afraid to start and get stuck for ages with the same game.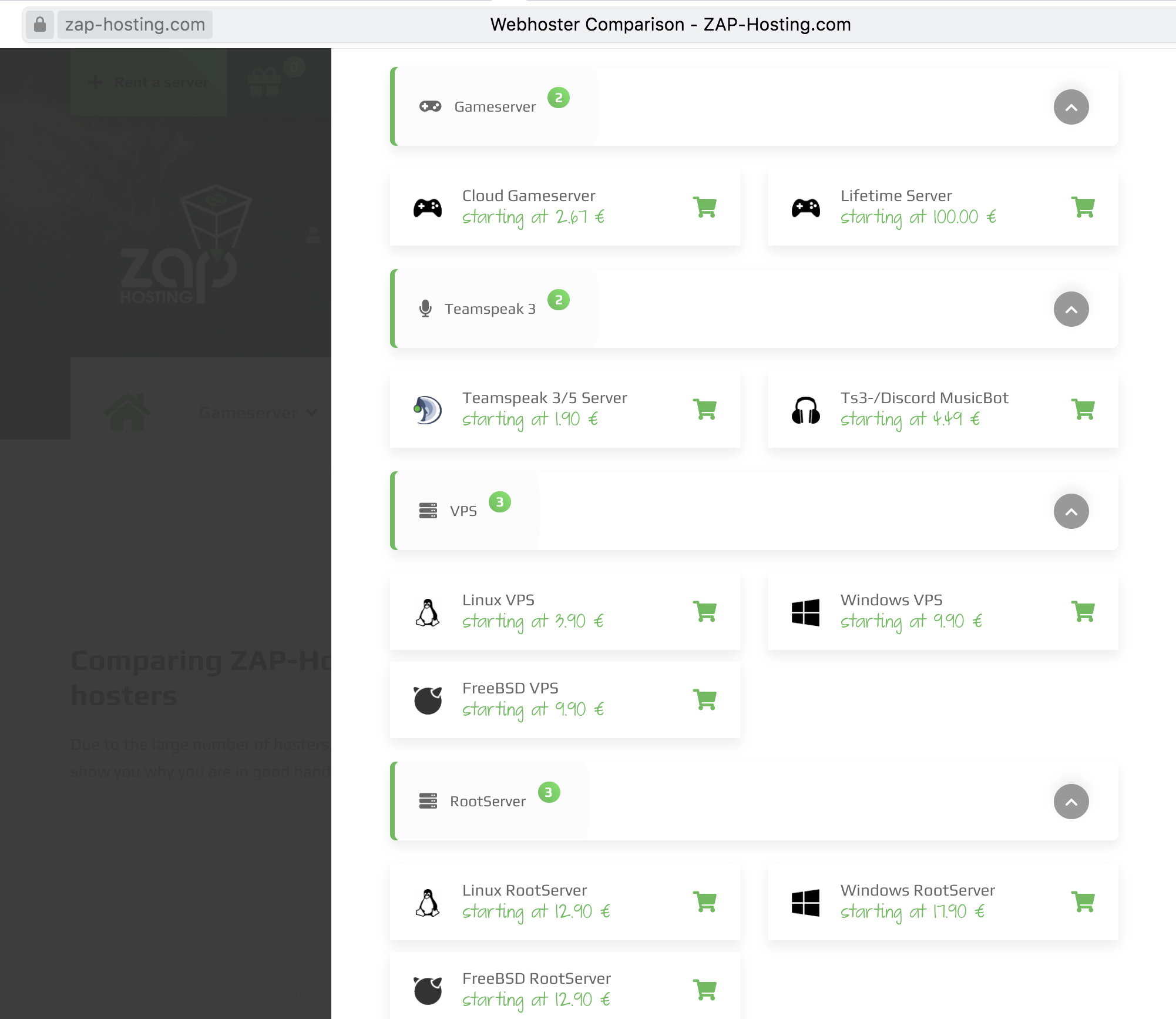 Here are a few different custom plans available for the Minecraft Vanilla server:
| | | | |
| --- | --- | --- | --- |
|   | $3/month | $27/month | $120/month |
| Location | Germany | Canada | The U.S. |
| Gameserver slot | 4 Slots | 14 Slots | 36 Slots |
| RAM | 2048MB DDR3/4 | 5048MB DDR3/4 | 13694MB DDR4 |
| HDD or SSD used in servers? | SSD | SSD | SSD |
| Speed | 2-3.4 GHz | 2-3.4 GHz | 3.4-4.4 GHz |
| IPv4 Address included? | No | Yes | Yes |
| Customer support | Ticket system, email, and live chat. | Ticket system, email, and live chat. | Ticket system, email, and live chat. |
There are tons of different combinations that you can create, and you can go further than we did in these examples.
The price depends entirely on your needs. You can even get a game server for just $4 a month.
ZAP-Hosting features
One of the main features that distinguish this type of provider is the choice of the game. In ZAP-Hosting, you have seven categories to choose from, including bestsellers, like Minecraft, Lifetime servers, and the ability to pre-order Lifetime servers.
When it comes to the complete list of game servers that ZAP-Hosting offers, you get up to 115 different options. These include both original games as well as modified versions. You can purchase ARK, ARMA 3, Half-Life, and many other popular games.
The list here is awe-inspiring, and you also have the opportunity to change games when you want. That makes the price more attractive.
Minecraft is one of the most popular games, so there is a particular category for it and its different versions. You can get the original Minecraft, Minecraft Adventure, Feed the Beast, and life in the forest, among others.
Both the games and services here are quite varied, so you can find almost anything you want.
Games and their configuration is the primary function that providers need; fortunately, ZAP-Hosting coped with this task.
ZAP-Hosting performance
After testing the ZAP-Hosting response time and stability of interaction with the Pin Kingdom, the results were excellent. Within one month of testing, our server did not experience any downtime. Our report showed a remarkable 100% uptime rate.
The average response time was only 257 ms, and at that time, it had dropped to 209 ms. Both stability and responsiveness in ZAP-Hosting are incredible.
We then tested how fast our server was around the world. To do this, we used Bitcatcha, which gave us an overall assessment of an A+ performance. Canada, Germany, and the USA showed a high speed of about 20 ms or less.
Sao Paulo was the only place where the response time was less than 100 ms, here, about 128 ms.
The ZAP-Hosting servers have excellent uptime and performance that can meet any need.
ZAP-Hosting support
ZAP-Hosting offers 24-hour assistance via email, tickets, and live chat options. It works from 10:30 am to 06:30 am (20 hours a day) in the central time zone and provides ticket support for live chat. From 06:30 to 10:30, you will only have a ticket support service.
The live chat option works very well. We got our first answer in about 4 minutes, and the agent was very helpful. He answered our questions without sending any links to various articles.
The same can be said about tickets and email support. We received an answer to our email within one hour. They even have a feature of the upcoming forum that will allow gamers to share and discuss games and ZAP-Hosting services.
If you want to read about upcoming or implemented changes, visit the ZAP-Hosting blog.
ZAP-Hosting tries to give you as much help and assistance as you need, offering 24/7 live chat and ticket support.
To sum up my ZAP-Hosting review
ZAP-Hosting is focused on a particular audience, and it achieves this very well. With so many different game-oriented services, widely customizable plans, and unique products such as lifetime game servers, ZAP-Hosting can find common ground with PC players.
After our review of ZAP-Hosting, we can say that this is an excellent option if you need a sturdy, multifunctional, and inexpensive server to run your favorite game.
Do you have a different opinion? Feel free to leave comments below, leaving your feedback about ZAP-Hosting.
Pros
Availability of lifetime game servers

Prices are cheap to start

Reliable uptime

Several server locations
Cons
No phone support

Some server locations can double the price.
Changelog – pre-ecosystem era