TMDHosting Editorial Review & Aggregated Reddit Reviews
TMDHosting strives to be a hosting provider that suits everyone. Offering a wide range of plans, it is now home to more than 300,000 websites and has servers in 6 different countries.
However, do all these impressive numbers mean anything? Should you use this hosting provider, or are you better off elsewhere? Let's take a look at TMDHosting and see what they have to offer.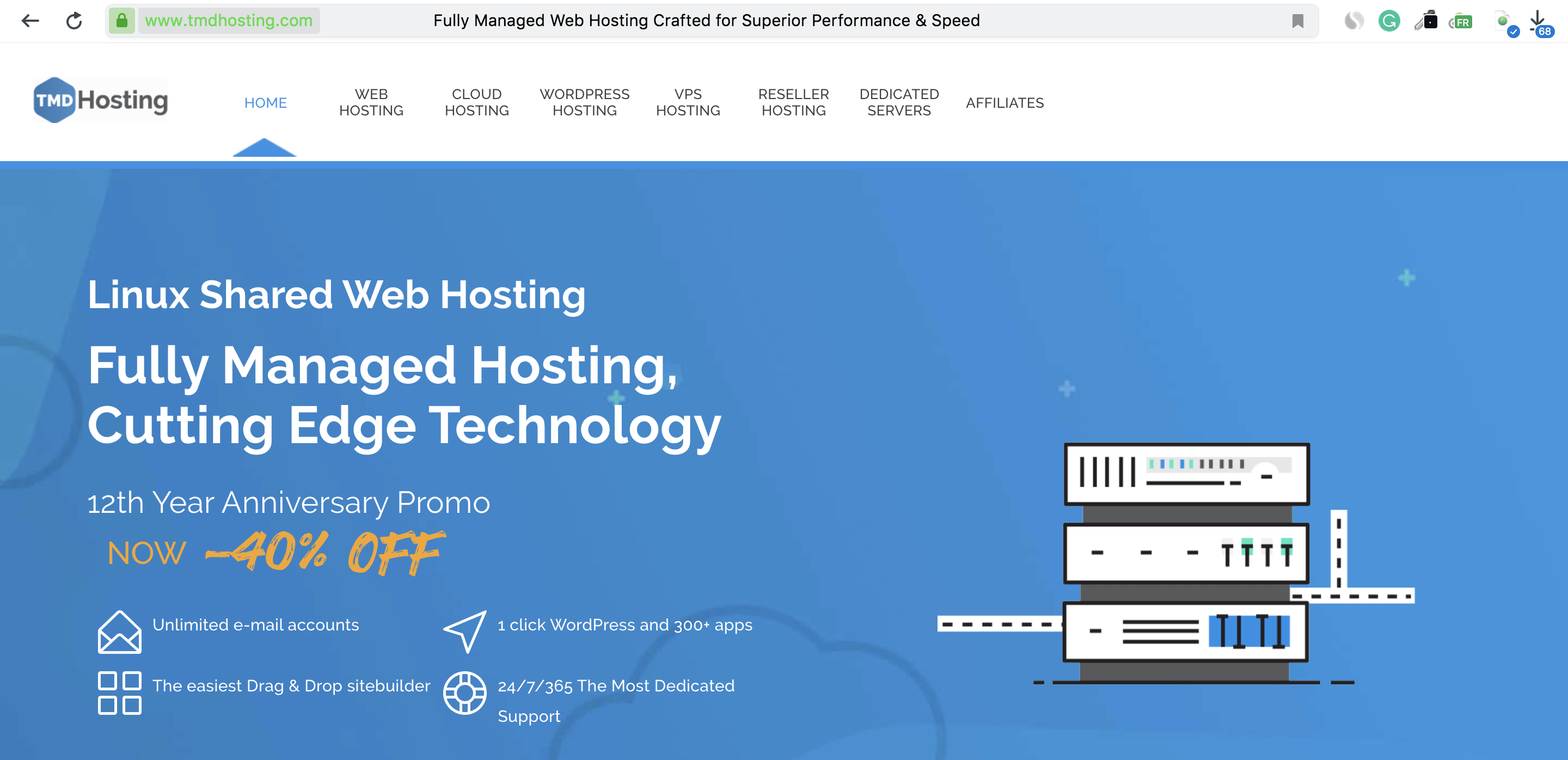 What is TMDHosting?
TMDHosting was launched in 2007, and with its main focus being on speed and first-class customer support, it should be one of the best virtual hosting providers in the world.
That's not all they have to offer. TMDHosting provides a wide range of other services as well, such as:
Shared hosting

VPS Hosting

Cloud hosting

Reseller hosting

SSL certificate

Domain names

Dedicated server
That is a severe choice. It is more suitable for beginners and site developers, as well as all the intermediate links. In this overview of TMDHosting, we'll take a look at its shared hosting plans and compare them to other competitors.
TMDHosting Pricing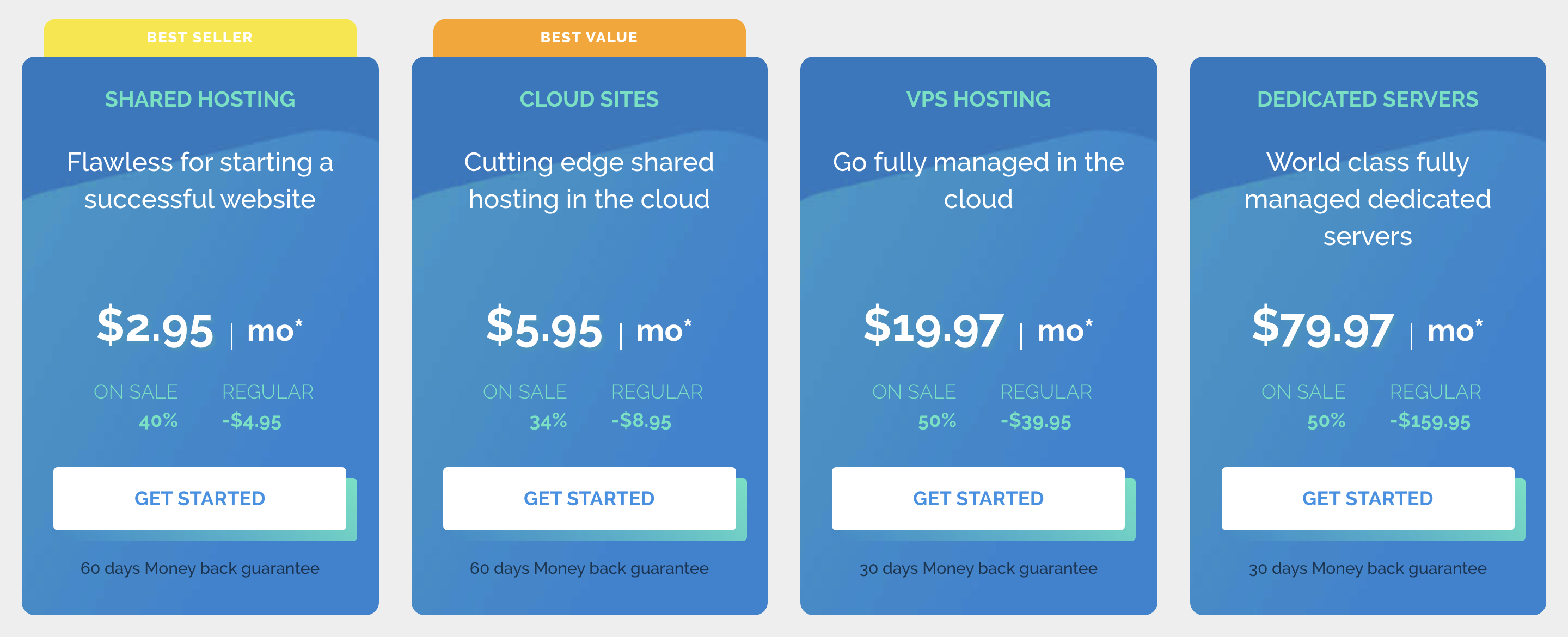 TMDHosting Linux hosting plans are quite expensive. Prices start at $2.95/month and can reach $12.95/month. A little above the industry average. However, it is not too high and not too low.
Start plan 
The starter plan starts at $2.95 per month. It only supports one website but has unlimited storage space and bandwidth, as well as an unlimited number of email addresses and FTP accounts. However, at the end of the initial purchase period, the price increases to $8.95 per month.
Business Plan 
The Business Plan package starts at $5.95/month. It supports an unlimited number of websites, unlimited storage space, bandwidth, and FTP and email accounts. At the end of the initial period, the price increases to $9.95/month.
Enterprise plan
An Enterprise Plan will cost you $12.95/month. It offers the same unlimited resources as the business plan, but also increases server performance, caching resources, and adds Wildcard SSL. After the initial period is over, it will cost you $16.95 per month.
The Start Plan is an ideal choice if you have a strict budget and only need one site. However, Business Plans and Enterprise Plans are suitable for larger projects.
If you are thinking about managing more complex websites and you need more people to come to your site, it is an excellent option to pay $12.95 per month for the Enterprise plan.
Compared to other hosting providers, these tariffs seem quite high, yet they are still considered to be quite reasonable.
Breakdown of the Prices
However, before you buy, you will need to know how the TMDHosting billing system works. The startup plan looks exceptionally beneficial to the beginner and is best suited to a tight budget.
To get a 60% discount, you will need to go through a 36-month (duh) billing cycle.
You will get a discount only on this billing cycle. That is a bit of a hack but can still save you in the long run.
So, you see, this package may be the best offer for you.
Starter Plan

Business Plan

Enterprise Plan

1 Month

$18.90 ($9.95 setup fee)

$19.90 ($9.95 setup fee)

$16.95

12 Months

$47.40

$83.40

$179.40-

24 Months

$94.80

$142.80

$310.80

36 Months

$106.20

–

–

| | | | |
| --- | --- | --- | --- |
| | Starter Plan | Business Plan | Enterprise Plan |
| 1 Month | $18.90 ($9.95 setup fee) | $19.90 ($9.95 setup fee) | $16.95 |
| 12 Months | $47.40 | $83.40 | $179.40- |
| 24 Months | $94.80 | $142.80 | $310.80 |
| 36 Months | $106.20 | – | – |
TMDHosting has a money-back guarantee (for 60 days), so even if you buy a plan for the longest time to get a discount, you can cancel it, even after two months. That is a good security measure to verify the performance and reliability of the server.
TMDHosting Pros
Now let's see what we like about TMDHosting. Here are the main positive things that I found in this TMDHosting Overview:
Good uptime
TMDHosting claims to provide 99.99% availability. Does it give this? Of course.
Servers have99.99% of the time, and there has been no significant downtime overall, just one or two minutes every few weeks. Is this good? Definitely!
60-day money-back guarantee
Many hosting providers offer at least a 30-day money-back guarantee if you are not completely satisfied with the services they have provided. However, TMDHosting gives you an extra 30 days to think about it. The 60-day money-back guarantee is one of the biggest attractions of the business.
Fast customer service
TMDHosting has a 24-hour live chat room, and this is not just an empty promise. The service representatives responded very quickly to our requests and gave us educated answers.
A small drawback to remember is that if you're looking for 24/7 telephone support, look elsewhere. The TMDHosting telephone service is only available during business hours in the USA.
A good amount of features and resources
TMDHosting offers a free domain name and website transfers for each client. It also has SSD and caching tools included. Depending on the plan you choose, you will receive either a basic cache, a 128MB Memcache instance, or an Opcache and 256MB Memcache instance.
The same applies to SSL. For these three plans, you will get an easy-to-install encryption protocol, standard SSL, or WildCard SSL, respectively.
TMDHosting can be an excellent platform for beginners. The interface and installation process, with a single click of the mouse, will help you complete the installation process in the shortest possible time. They also provide a wide range of training programs for further use.
TMDHosting Cons
No one is perfect, and TMDHosting is no exception. Here are some of the negative aspects collected in this TMDHosting review.
Bad response time
Although uptime is pretty good, TMDHosting servers suffer from insufficient response time. It can range between 750 and 1100ms, well below the industry average of 400 and 500ms. 
That was a bit disappointing.
Pretty expensive
TMDHosting charges an installation fee of $9.95. Even without that, the plans are too costly.
$8.95 per plan that can only work with one site? That is too much when many other cheaper hosting providers can do much more for much less money.
To sum up – Should You Go For It?
In general, TMDHosting is a fairly reliable option. However, it costs too much for what it does despite the premium features. So if you think you're going to use most of them, then this could be an excellent option for you.
Overall, there are many great options to choose from, offering better performance and similar features at a lower price. TMDHosting is good, but you can find it better.
Pros
99.99% availability

Premium features included as standard

Excellent customer service
Cons
Bad response time

The initial fee for monthly tariff plans

Expensive
Changelog – pre-ecosystem era