Evan W. – that wasn't the internet success that I wanted. It could always be better.
The guy asking questions is Dmitrii B. – founder of GRIN tech agency. Evan W. – is a marketing industry veteran running a US-based full-service agency.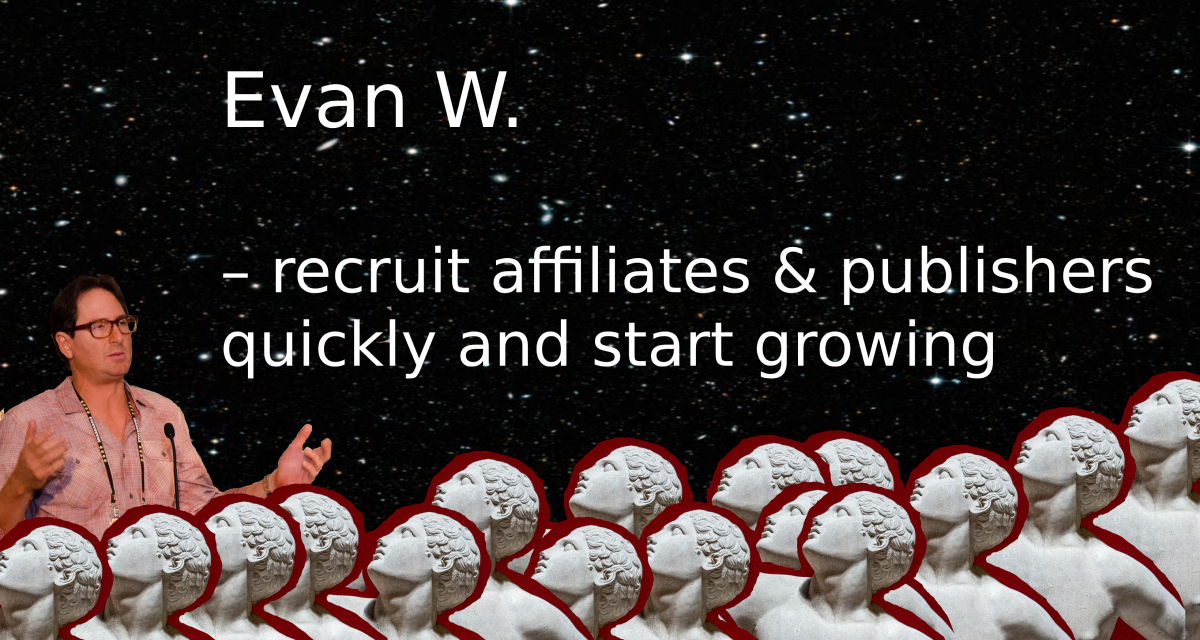 I started in the late 1990s. I had a free auction website. It was like an eBay clone. I did that for 2.5 years but that wasn't the internet success that I wanted.

So a friend of mine was launching a dental insurance website for consumers. We grew the company to 60 employees and $20 million annual revenue from nothing. The problem was that I only owned 1% of the company. You know, I brought in all of the revenue but didn't see any profits.

So I left in 2007 and started my own agency to do affiliate marketing for companies because I knew they needed that desperately.

Over the years, I've launched other services: pay-per-click management, content writing…you know, we do everything.
Dmitrii: I think it is a tendency with a lot of agencies to become full-service, or at least try to be full-service because they want to fill whatever gaps are missing in clients' projects.
Evan: Yeah, that's true, but a lot of agencies can't do full-service because they just can't deliver well enough in different areas. The reason I did it was because I had a background in different channels, and I stay on the cutting edge of digital advertising. So I learned how to advertise on LinkedIn properly, how to use Facebook advertising, Google Ads, Bing Ads, SEO… Truly, I have the background to deliver on any of those channels. Now I'm not a huge agency, not as big as I want to be, but I'm getting there. It's a process.
Dmitrii: I know it's a dull question, but what are the challenges that may come up on the way of growing an agency?
Evan: There are challenges in prospecting lots of companies, running ads effectively, churning out content, getting referrals, just doing the things to acquire clients. I've never had a good person in sales that just signed clients. And that's the only thing I regret – not having someone who would bring in clients all the time, every month.
Influencer Marketing
Evan: I can talk intelligently about that because I do media buying for an influencer agency.
I'm like the behind-the-scenes media buyer for all these brands that use influencers to create content. The influencer creates the content – videos or images with the product they recommend, they're being paid to do that. Then we take the content and run ads with it on Facebook, Instagram, or Youtube to drive user acquisition.
Dmitrii: Interesting. Would it work as a channel by itself without media buying on top of it?
Evan: It depends heavily on who the influencer is, how big the audience is, and how compelling the offer is from the advertiser. So, there are many factors with whether their organic post could work. It's a case-by-case basis, truly.
Media buying just helps ad campaigns to be more diverse, to utilize an influencer's recommendation to create sales. They should be used hand-in-hand by people who know what they're doing, of course. I think when you work with influencers you should absolutely be using their content to run ad campaigns with.
Dmitrii: how important is it to have at least somewhat recognizable branding to get the most out of influencer campaigns?
Evan: It's not a must, but it helps. If you don't have the brand recognition, you just have to crank up the reviews and the testimonials and the offer. You just have to crank up all the other factors that can be cracked up. The on-site conversion, the retargeting ads.
It can be done if you're doing all of those other things really well if you don't have the brand recognition. It makes it harder, but it can still be done if a real strategy is used to make it work.
If they're just going to try some influencers to see what it does – it could be a colossal waste of money.
Affiliate Marketing
Dmitrii: when you get leads on affiliate marketing, what are the requirements or things you look at in people's businesses?
Evan: Well, if the company just started, the first thing I tell them is that they are not ready for affiliate marketing.
Affiliates are never the first thing you do for a company to drive traffic to it. It's like the fourth or fifth type of channel in a digital marketing strategy.
And conversion rate matters. The company has to improve it by running campaigns, using different tools, CRO tools.
Dmitrii: Can you give some benchmarks, like where's a good threshold of conversion rate optimization?
Evan: It could always be higher, be better. There will be a baseline of how poorly your website is converting right now, and then – everything else is above. So, what happens is, as the CRO tools are implemented and you start turning on traffic sources, then the CRO campaigns will improve the conversion rate over time as you launch more CRO campaigns.
So, the company should be focused on the CRO strategy or be ready to work on it with me, otherwise, I won't even take them on as a client. I'd tell them, "Forget it, it's not going to work well enough. The affiliates aren't going to make the money they need to make." And most companies don't argue with me on that. They know their website needs to convert better, it's just a question of what tools and what timeline we're going to use to improve it.
Dmitrii: So, if the company didn't do CRO before they first have to do it with you, and then you have to use paid channels to test the conversion? So, how does the cost structure and budgeting look like?
Evan: It depends on the company and its industry, how much the traffic costs.
Usually, pay-per-click search traffic is the way to go.
Then there's shopping traffic if they have a product catalog, that's very inexpensive high-converting traffic.
Then you have the retargeting ads on the backend that follow people around when they leave the website if they don't convert and bring them back.
So, that's a traffic loop right there, and within that, the conversion tools run on the site like pop-up boxes, spinning wheels, collecting emails, sending card abandonment follow-ups… There are many CRO campaigns that will get launched, but that's usually the first ones. After doing that for a month or two, they should be ready for affiliates.
Dmitrii: And, can you give a high-level overview of how affiliate marketing starts when the CRO part is figured out?
Evan: Well, it depends on what the company wants to do. There are affiliate networks like CJ.com.
That's our main network for retailers in e-commerce where I can recruit affiliates and publishers quickly and start growing this acquisition channel.
Dmitrii: Are there cases when it makes sense to go with a self-hosted affiliate program?
Evan: Sometimes yes. It depends on the company. There are companies that don't want to be a part of a network. And there are some companies that have both – in-house affiliate programs and one or multiple networks.
But I'm not a big fan of putting an advertiser on multiple networks because I just don't think it's necessary. There is a good amount of overlap of the affiliates on the networks, and they each have their own databases. In my opinion, CJ alone has a big enough and high-quality database of affiliates. They're more effective at recruiting the affiliates to connect with the company, and because of that it's been my network of choice for 15 years and I don't see it changing, to be honest.
Dmitrii: Amazon recently cut the commissions again. My first thought was that it's a nice opportunity for other retailers to jump on the train and say, "Hey, we might not have an 11% conversion rate like Amazon, but we're paying more".
Evan: It sounds good in theory to do that, but that's not easy in itself, convincing them to be an affiliate of whatever retailer it is. That's very difficult. It takes a lot of tact, a lot of good approach, multiple contacts, the email has to be very good and from a reputable company. So, there are many factors involved in recruiting them like that. Not easy, but we do that. We contact known affiliates on the web and recruit them for various clients we represent that aren't part of CJ. It works to a small extent, but the response rate is really only like 5-10%.
Dmitrii: 5-10% is still pretty great.
Evan: It depends on who the 5-10% are and if they can do anything, but yeah, you don't need many to make it worthwhile.
B2B affiliate program
Dmitrii: The default assumption with affiliate programs is that it's b2c, but is there room for B2B affiliate programs?
Evan: Yeah, there is, but it's much harder to grow a B2B affiliate program. On the networks like CJ there more affiliates that specialize in B2C traffic – deal sites, coupon sites, bloggers…many different types of affiliates, but most of them are B2C oriented. There are some B2B, but it's a much smaller amount.
The best affiliates in B2B in my opinion are other companies in B2B. You partner with another company that has a different product but might have the same audience, and you get them to advertise your company and vice versa. It's called "reciprocal partnership", so you partner with other companies in the B2B space that have the same audience and you become each other's affiliates.
Dmitrii: so it works more like classical sales where you go to other companies and try to offer them a partnership. It's not as straightforward as listing them on CJ.com, right?
Evan: It's the same concept. It's not as simple as listing the offer on Commission Junction, that's an easier thing to do when it's a B2C.
In B2B, the partnerships of the affiliates have to be hand-created. They have to be gotten the old-fashioned way. A lot of outreach, a lot of partnerships, reciprocal marketing for each other… It's a much different strategy to grow a B2B affiliate program than to build a B2C one. The concept is similar, but the approach is completely different.
Dmitrii: would you pick up such a project?
Evan: it depends on the niche and on the company. If they are brand new and they don't have any track record of success of advertising online and doing an acquisition, then – no, I wouldn't recommend affiliates for them right away. I recommend that down the road when you're able to drive sales for yourself, have a proven conversion rate, have a budget to go get affiliates with – to bring on an agency or someone who's going to reach out and get you to be affiliates, but it's a long-term strategy.
The affiliate channel truly grows over time, not like Google where you can just crank it up, crank the faucet up right away. Affiliate growth over time – it grows annually. It grows annually, that's what I tell companies. In a second year, it will far exceed what it did in year one.
Dmitrii: Is it just like a natural tendency of more affiliate marketers discovering the program?
Evan: Yeah, it's having more productive affiliates over time, it's a numbers game. Year one, you might have 500 affiliates and 50 producers, year two you might have 2,000 affiliates and 100 producers, so you're going to be doing twice as much revenue through the channel.
Are there any services or things you offer that are not commonly utilized?
Evan: That's a good question. We do pretty much everything: influencer outreach, blogger outreach, PPC management, re-targeting ads management, sending emails, writing articles… I think there are no "exotic services" that we don't do.
But to answer your question I would say CRO is overlooked because it's still very murky how to go about it. What I realized a while ago that there are many tools out there in e-commerce. There are multiple customer review tools, multiple pop-up tools, multiple retargeting tools… multiple everything. It's all about choosing the best tools out there to do what you need them to do on your website.
As you launch more CRO campaigns on the site, and they succeed – they compound on each other. So ultimately if you have ten winning CRO campaigns on your site, your website just went from 1% to 4% instead of 1% to 2%.
Eventually, it gets there, but it doesn't happen overnight. In order to arrive where you want to arrive, you have to have a good process and strategy for all the channels. And a company on its own may not have the capacity to grow all those channels at once unless they have a team of ten or twenty people.
Or you can just bring on an agency like mine and we can do it all with the right tools and the right strategy.